Let me start by saying that your bread machine must have a Super Rapid, Express Bake or Rapid Bake option in order to take advantage of this loaf. Our machine cranks this out in just 80 minutes, which I absolutely love. It takes about 5 minutes to toss all of the ingredients into the pan, and less than an hour and a half later, the bread is ready! The most challenging part is waiting for it to cool.
Rapid-rise recipes usually call for more yeast and salt, which is somewhat noticeable but not detrimental to the overall flavor. Though Buttermilk Oatmeal Bread remains my all-time favorite sandwich loaf, this is my go-to recipe when our breadbox is empty and lunch is just a few hours away. It's speedy, tastes great and includes whole grains. What's not to like?!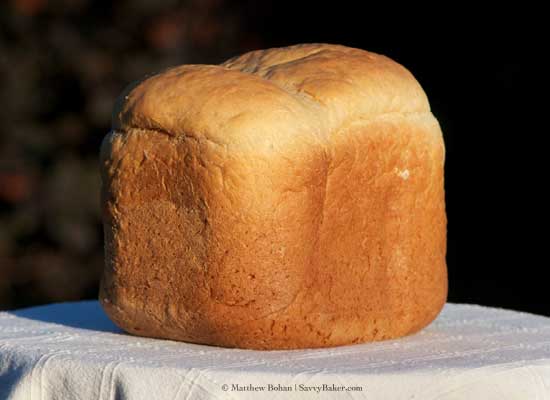 Golden Potato Bread
Adapted from a Breadman instruction manual and recipe guide.
Makes one 2-pound loaf
1 3/4 cups warm water
3 tablespoons canola oil
2/3 cup instant potato buds or flakes
3 tablespoons sugar
1 1/2 teaspoons salt
1 cup whole wheat flour
3 cups bread flour
4 teaspoons rapid or instant yeast
Add all ingredients to bread machine in the manufacturer's recommended order.
Use the Super Rapid, Express Bake or similar setting for a 2-pound loaf.
Once baked, cool for about 30 minutes before slicing.
Store in a tightly sealed container at room temperature for 2-3 days.
Note: this list is in optimized order for our machine and for mixing instant yeast directly into the bread flour.
© Liesl K. Bohan  |  SavvyBaker.com