While growing up, one of Matt's favorite snacks was the Sunshine Biscuit Company's Golden Fruit, a thin, raisin-filled, perforated cookie that disappeared sometime after Keebler Foods acquired Sunshine. In an online search for something reminiscent of this childhood treat, he discovered Garibaldi biscuits.
According to Wikipedia, the traditional Garibaldi biscuit consists of currants sandwiched between two thin, rectangular biscuits. Customarily served with tea or coffee, this cookie has been a popular British snack for nearly 150 years.
Garibaldi biscuits usually have a golden brown, glazed exterior and a fairly sweet pastry. Their defining characteristic is the generous layer of flattened fruit that has evoked names such as "squashed flies," "squashed fly biscuits" and "fly sandwiches."
We have made several versions of this British classic. The first one, which contains less butter than the original, results in a light cookie with a hint of whole wheat. Matt's version, the one we've been baking for years, yields a flatter, richer cookie. For each, currants have been replaced with other dried fruits. If you want to try the traditional biscuit, opt for version 3.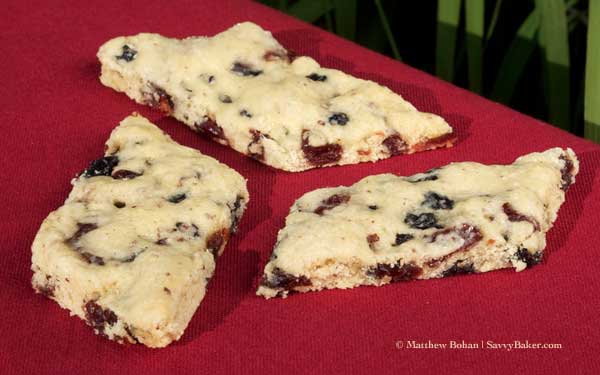 All-American Garibaldi Biscuits
Version 1: Liesl's "Light and Fluffy"
1 1/2 cups all-purpose flour
1/2 cup whole wheat flour
1/2 cup sugar
1 teaspoon baking powder (optional)
1/2 teaspoon baking soda (optional)
1/8 teaspoon salt
6 tablespoons unsalted butter
1/2 cup dried cherries, chopped
1/2 cup dried blueberries
1/2 cup nonfat milk
Preheat oven to 375° F and cover a baking sheet with a Silpat mat or a light coat of cooking spray.
Whisk the first six ingredients together into a bowl.
Cut in the butter until mixture resembles coarse crumbs.
Add dried fruit and mix until combined.
Add milk and stir until dough pulls together.
Turn dough out onto Silpat mat or prepared pan, dust lightly with flour and roll into a rectangle about 1/4-inch thick.
Cut into dough using a pizza wheel to make parallel lines about 2 inches apart. Then cut a new set of parallel lines 1-2 inches apart on an angle to the first ones. (See photos.)
Bake for 15 minutes, until golden. Remove pan to wire rack to cool.
Once cooled, break along lines or cut again to serve.
Once cooled, store at room temperature in a tightly sealed container for up to 2 days.
Variations
Version 2: Matt's "Flat, Not Fluffy"
Use 2 cups all-purpose flour (no whole wheat), omit the baking powder and salt, use 1/2 cup of butter (1 stick) instead of 6 tablespoons, and use 1 cup raisins instead of cherries and blueberries.
Version 3: The Classic
Use 2 cups all-purpose flour (no whole wheat), omit the baking powder and salt, use 1/2 cup of butter (1 stick) instead of 6 tablespoons, and use 1 cup currants instead of cherries and blueberries. For a truly traditional flair, don't add currants until dough is rolled out, spreading them evenly over half of dough. Then fold other half of dough over currants and roll back down to 1/4-inch thickness. Brush with an egg glaze (1 yolk mixed with 1 tablespoon water) before baking.
Version 4: Better for You
Follow Version 1 above, but use a 50/50 mix of all-purpose and whole wheat flour (2 cups total) and reduce sugar to just 1/3 cup.
© Liesl K. Bohan  |  SavvyBaker.com