If you love peanut butter and have a sweet tooth, these candies are definitely for you. They taste, look and feel like some sort of PayDay, Rice Krispies Treat and PowerBar combo.
I looked at no fewer than ten recipes for peanut butter balls before coming up with this summer-friendly, keep-in-the-fridge, no-bake treat. I love that they are easy to make and don't require stovetop heating or oven baking. It's also great that they can be flattened, cut and stored in one container without the hassle of rolling and preserving individual balls.
Given the sugar content, these are not exactly health-food fare. You could consider them healthful because of the whole-grain cereal, walnuts, peanut butter and honey in each bite, but they are most definitely not a low-calorie snack. That being said, if you're in the mood for something sweet, these offer more fiber, protein and nutrients than any other peanut butter ball—or flattened equivalent—that I've come across.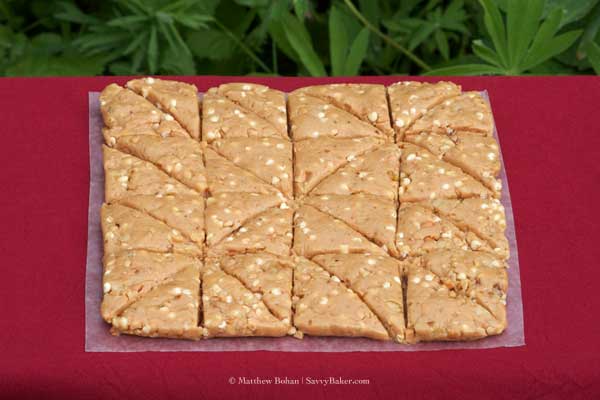 Peanut Butter Crunchies
Makes 32
1 cup puffed brown rice cereal or puffed millet cereal
1 cup confectioners' sugar
1/3 cup nonfat powdered milk
1/3 cup crushed walnuts
1 cup creamy or chunky natural peanut butter
1/2 cup honey
Line an 8-inch square pan with waxed paper.
Whisk cereal, sugar, dry milk and walnuts together in a medium bowl. Set aside.
Cream peanut butter and honey together in a large bowl.
Add dry ingredients to peanut butter mixture and stir until completely combined.
With moistened fingers, press mixture evenly into prepared pan.
Refrigerate until firm.
Cut into squares or triangles.
Keep refrigerated in an airtight container for up to a week. For best texture, eat within 3-5 days.
© Liesl K. Bohan  |  SavvyBaker.com