This is an incredibly rich ice cream, and you don't have to remember to buy whipping cream or half and half in order to make it. With just a few canned goods you can buy on sale and stock in your pantry year round, you can whip up a batch of this in no time.
Far from being a "light" ice cream, this is at least lower in fat and calories than most frozen peanut butter dairy treats. Since the liquid portion consists of nonfat milk, fat free evaporated milk and fat free condensed milk, it contains none of the cream-related fats typically found in ice cream. Instead, the majority of the fat and calories in this amazing dessert come from the peanut butter itself.
While one half-cup serving of this contains about 240 calories (ouch!) and 8 grams of fat, the good news is that it also offers about 11 grams of protein and 25% of the recommended daily value of calcium. Just remember to stick to one serving. (I know. Half a cup of ice cream is a ridiculously small amount and—despite what all the labels say—is probably not considered a full serving by most adults. But… this is so rich that you're more likely to feel satisfied than you would after a comparable serving of light ice cream.)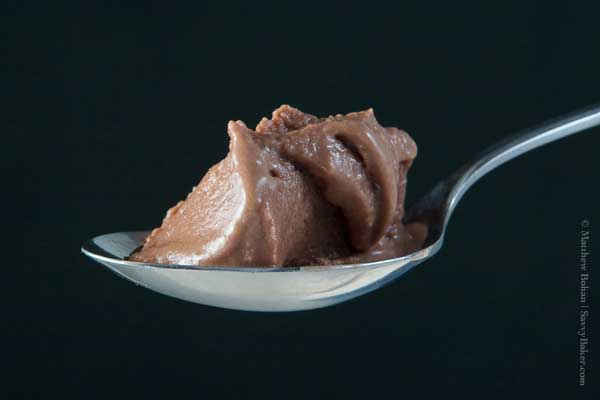 Peanut Butter and Chocolate Ice Cream
Adapted from The Perfect Scoop: Ice Creams, Sorbets, Granitas, and Sweet Accompaniments
by David Lebovitz and Cook Yourself Thin Faster: Have Your Cake and Eat It Too with Over 75 New Recipes You Can Make in a Flash!
by Lauren Deen
Makes 1 quart
1 1/2 cups nonfat milk
3/4 cup fat free sweetened condensed milk
3/4 cup fat free evaporated milk
1/2 cup creamy peanut butter (not natural)
1/4 cup cocoa powder
Combine all ingredients in a blender and process until smooth.
Refrigerate until chilled.
Blend again briefly, and then pour immediately into the bowl of a 1-quart ice cream machine.
Freeze according to manufacturer's directions.
If you don't have an ice cream machine, pour mixture in a bread loaf pan, press plastic wrap onto the surface, and freeze for 6-8 hours.
The texture of this is best on the day it's made. Freeze any leftovers in a small, tightly-sealed container.
© Liesl K. Bohan  |  SavvyBaker.com