Prior to trying the millet muffins in Mollie Katzen's Sunlight Café, I thought millet was just for birds, literally. We had been buying millet sprays for our lovebirds and cockatiels for ages. I was a little dubious about trying this grain myself, but the muffins were delicious. As an added bonus, it turns out that millet is a great source of protein, fiber and iron. (That may explain in part why some forms of this grain have been cultivated for thousands of years and are still grown in huge quantities in parts of Asia and Africa.)
I recently bought some millet at a natural foods store in the hopes of baking more muffins, but I couldn't get my hands on Katzen's recipe in time for breakfast. Thanks to the Internet, I was able to dig up several versions, none of which sounded quite right. One used millet flour while another called for cooked millet. The only recipe even slightly reminiscent of the one I used before was attributed to the Metropolitan Bakery. This version is loosely based upon that one.
As usual, my recipe has more whole grains (via whole wheat flour), less fat (1/3 cup oil instead of 3/4 cup butter) and less sugar. When altering, adapting or creating recipes, it often takes multiple experiments to get it right. I'm happy to report that these muffins turned out beautifully—in taste, texture and appearance—on round one!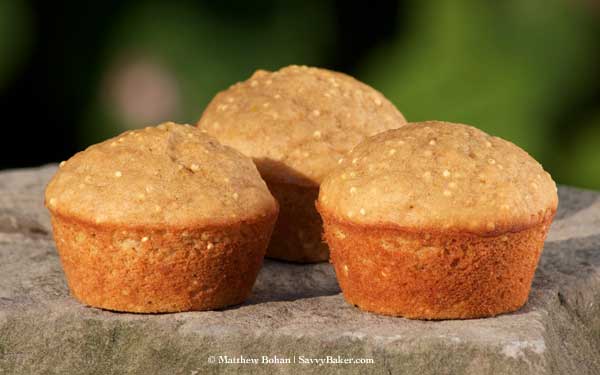 Golden Millet Muffins
Makes 12 muffins
1 1/4 cups all-purpose flour
1 cup whole wheat flour
1/2 cup packed brown sugar
1/2 cup hulled millet, toasted*
1 1/4 teaspoons baking powder
1/2 teaspoon salt
1/2 cup nonfat milk
1/2 cup nonfat or lowfat vanilla yogurt
2 large eggs
1/3 cup canola oil
1 teaspoon vanilla
* I use a stovetop method: toasting them in a dry skillet over medium-low heat for about 5 minutes, tossing or stirring often to prevent burning.
Preheat oven to 375° F and mist a 12-cup muffin tin with cooking spray.
Combine first six ingredients (flour through salt) and whisk well. Set aside.
In a separate bowl, whisk together the remaining ingredients (milk through vanilla).
Once the oven is preheated, add the wet ingredients to the dry ingredients, stirring just enough to moisten.
Divide the batter evenly among prepared cups.
Bake for 18-20 minutes, until golden.
Cool muffins in tin on wire rack for 5 minutes before removing muffins to rack to cool further.
Store in a tightly sealed container at room temperature for up to two days.
Sources (regarding millet): Wikipedia and Nutrition Data
© Liesl K. Bohan  |  SavvyBaker.com