It's hard to beat homemade, fully "leaded" chocolate chip cookies. The delicious combination of real butter, loads of sugar and tons of chips has made them an all-American favorite. As much as I enjoy sampling such treats, I now prefer my cookies to have less fat, less sugar and at least a touch of whole grains. Not only do Chocolate Chippies meet all of these criteria, but they also contain good-for-you fruit, and—believe it or not—they still taste great!
I'd like to give credit to the book in which I first saw a version of chocolate chip cookies that replaced part of the butter with Neufchâtel cream cheese. Unfortunately, I can't find the recipe, the book or any reference to either online. Instead, I created my own using bits and pieces of at least three other versions, most of which called for a full cup of butter and up to 8 ounces of real—not reduced fat—cream cheese.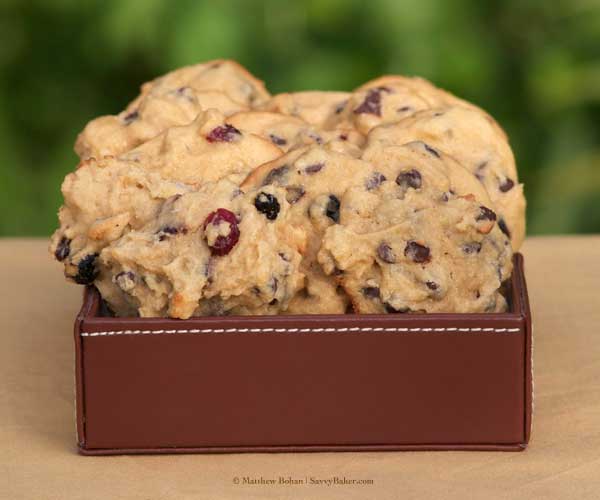 Chocolate Chippies
Makes 30-36 cookies
1 cup whole wheat flour
1 cup all-purpose flour
1 tablespoon wheat germ
1/2 teaspoon salt
1/2 cup (1 stick) butter or margarine
2 oz. Neufchâtel cream cheese
2/3 cup packed brown sugar
1/3 cup granulated sugar
2 large eggs
2 teaspoons vanilla extract
3/4 cup mini semisweet chocolate chips
1/2 cup dried cranberries, dried blueberries or chopped dried cherries
Preheat oven to 375° F.
In a medium bowl, whisk together flour(s), wheat germ and salt. Set aside.
In a large bowl, cream together butter or margarine, cream cheese and sugar(s).
Add eggs and vanilla and blend until smooth.
Add flour mixture to wet ingredients all at once and mix just until combined.
Stir in chocolate chips and dried fruit.
Drop dough by teaspoonfuls at least one inch apart onto ungreased baking sheet or onto a baking sheet covered with a Silpat mat. Refrigerate dough between batches.
Bake 10-12 minutes, just until cookies are set and slightly golden around the edges.
Remove sheet to a wire rack to cool. After a couple of minutes, transfer cookies to rack to cool completely.
Store in an airtight container at room temperature for up to 3 days.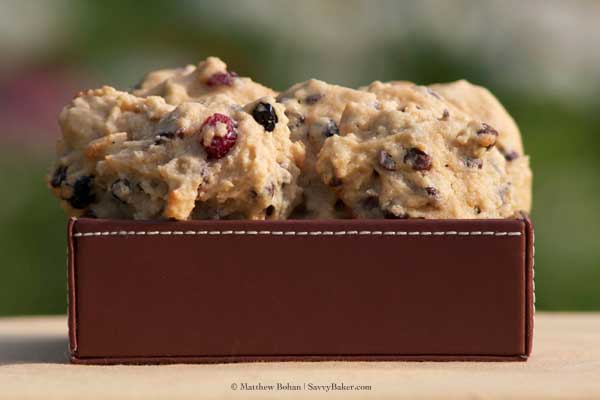 © Liesl K. Bohan  |  SavvyBaker.com