This is a light, crunchy granola, well suited for milk or yogurt. It's not overly sweet, nor is it loaded with sugar, calories or oil, so you can enjoy great taste without the not-so-good-for-you extras in many store-bought granolas. Unfortunately, the price of dried blueberries these days puts this recipe at near-gourmet prices.
You could use fewer berries or substitute another dried fruit, but—needless to say—it just wouldn't be the same. If you find dried blueberries for a good price, buy a few bags; you should be able to store the unopened ones for several months. Otherwise, team up with a friend to get them in bulk. They taste great, are good for you, and work beautifully in a multitude of recipes, including this one and my All-American Oatmeal Chocolate Chip Cookies.
Alternatively, if blueberries are in season, skip the dried and embellish your bowl with a generous topping of fresh blueberries. Ah… the wonderful tastes of summer!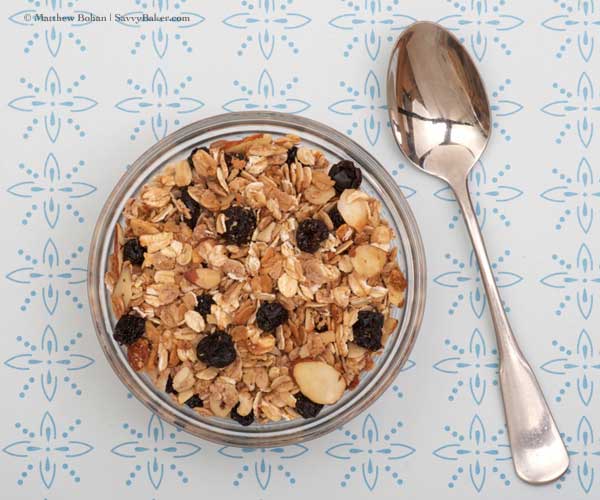 Blueberry Vanilla Granola
Makes about 12 half-cup servings
4 cups rolled oats (not instant) or any combination of rolled oats, rye, barley and wheat
1 cup sliced almonds or crushed walnuts
1/4 teaspoon cinnamon
1/4 teaspoon salt
1/3 cup grape juice concentrate, thawed
1/4 cup honey
2 tablespoons packed brown sugar
1 tablespoon canola or olive oil
1 tablespoon vanilla extract
1 cup dried blueberries
Preheat oven to 325° F and mist a 9 x 13-inch pan with cooking spray.
Thoroughly combine rolled grains, nuts, cinnamon and salt in a large bowl.
In a separate bowl, whisk together grape juice concentrate, honey, sugar, oil and vanilla extract.
Pour wet ingredients into dry ingredients, stirring until everything is evenly coated.
Transfer mixture to prepared pan and distribute evenly.
Bake for 45 minutes, removing pan every 15 minutes to stir granola and prevent burning.
Remove pan, turn oven off, and stir dried blueberries into granola.
Return pan to cooling oven, which should remain off.
After 10-15 minutes, remove pan and allow granola to cool completely.
Once cooled, store at room temperature in a tightly sealed container for up to two weeks.
© Liesl K. Bohan  |  SavvyBaker.com
P.S. I know of at least two people who love this granola, but I have to admit that my favorites are still those containing peanut butter. If you like a clumping granola that's more rich than light, try my Protein-Packed Peanut Butter Granola or my Peanut Butter Granola Surprise.