Light, nutritious and loaded with summer's bounty: what a delicious way to start the day! The first time I made these, my 5-year old devoured two of them faster than his father did.
Almond meal provides extra flavor and protein, but if you don't have any, just use more of the multigrain mix instead.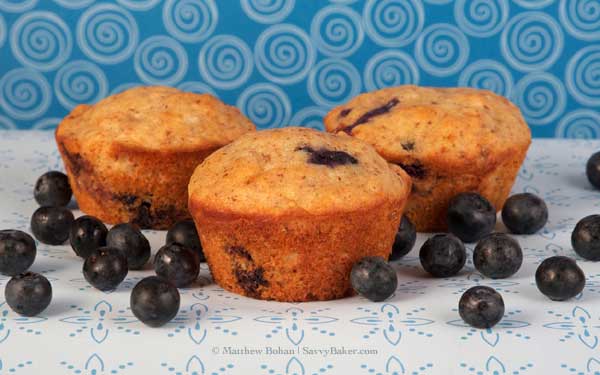 Summer's Best Blueberry Muffins
Makes 12
2 cups multigrain baking and pancake mix (I recommend Trader Joe's)
1/2 cup almond meal
1/2 cup nonfat milk
1/2 cup nonfat or lowfat vanilla yogurt
1/3 cup packed brown sugar
1 egg
3 tablespoons canola oil
1 1/4 cups fresh blueberries
Preheat oven to 350° F and mist a 12-cup muffin tin with cooking spray.
Whisk together pancake mix and almond meal in a medium bowl. Set aside.
Combine milk, yogurt, brown sugar, egg and oil in a bowl or large measuring glass.
Once oven is preheated, add liquid ingredients to dry ingredients all at once. Stir gently to combine, stopping just before all dry ingredients are moistened.
Fold in blueberries, mixing just until they are incorporated and everything is moistened.
Distribute evenly among prepared muffin cups. Bake for 20-22 minutes, until golden.
Remove to a wire rack to cool.
Store in an airtight container at room temperature for up to three days.
© Liesl K. Bohan  |  SavvyBaker.com