The only thing sneaky about these vitamin- and fiber-packed muffins is that they contain pumpkin. My family typically welcomes whole-grain banana muffins at any time of day, and I was afraid that revealing the identity of this particular ingredient might dampen their enthusiasm. (They only appreciate pumpkin if it is combined with chocolate or served under syrup in pancakes.)
Though part of this recipe's success could be attributed to my PR maneuvers, it's more likely based upon taste. No matter how clever, no name could trick our youngsters into polishing off something they don't like, yet only a few remained to be served for breakfast on Day 2.
While many muffin recipes call for more sugar, these rely partially upon bananas for their sweetness. The result is moist and flavorful but not overly sweet. If you think that these might not suit your sweet tooth, use chocolate chips instead of cranberries. Yum!
Crushed walnuts could also be substituted for—or added with—the cranberries.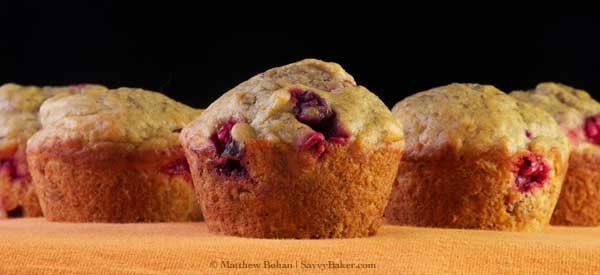 Sneaky Cranberry Banana Muffins
Makes 12
2 1/2 well-ripened medium bananas
1/2 cup brown sugar
2 large eggs
1/4 cup cooked, puréed pumpkin
1/4 cup canola oil
1 cup unbleached all-purpose flour
3/4 cup whole wheat flour
2 teaspoons baking powder
1/2 teaspoon baking soda
1/8 teaspoon salt
1 cup fresh or frozen cranberries, rinsed and dusted with flour
Preheat oven to 350° F, and mist a 12-cup muffin tin with cooking spray.
Put bananas, brown sugar, eggs, pumpkin and oil in a stand mixer or large bowl. Blend until bananas are thoroughly mashed and combined with the other ingredients.
Add flour(s), baking powder, baking soda and salt to the banana mixture. Stir gently, stopping just before everything is completely moistened.
Fold in cranberries, mixing only until everything is incorporated.
Distribute evenly among prepared muffin cups.
Bake for 20-22 minutes, until lightly browned.
Remove to a wire rack to cool.
Store in an airtight container at room temperature for up to 3 days.
© Liesl K. Bohan  |  SavvyBaker.com