The quest continues…
Though smitten with both Banana Nut Granola and Peanut Butter Granola Surprise, I can't help but continue experimenting with these peanut butter and banana granola recipes. It was such a revelation to learn that fresh bananas can be used in granola. What a great way to use the well-ripened fruit and to reduce the cost and calories from using other sweeteners!
Though excellent in both of the recipes mentioned above, apple juice concentrate isn't necessary to create an irresistible granola. The banana and honey in this recipe lend enough sweetness to exclude that ingredient and its calories.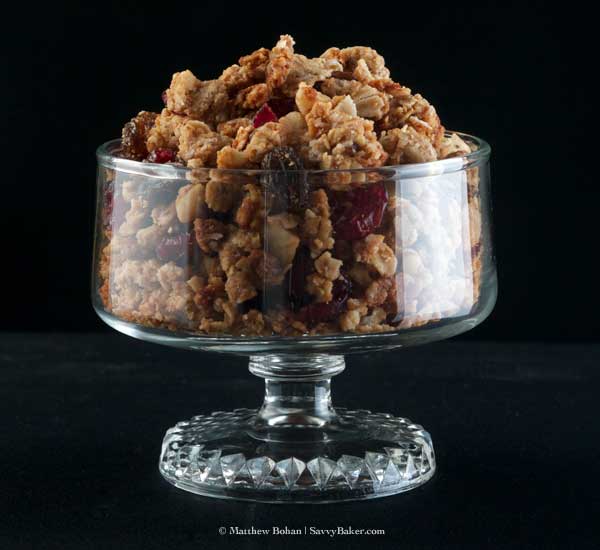 Peanut Butter and Banana Honey Granola
Makes about 16 generous half-cup servings
1 cup creamy or crunchy peanut butter
1 well-ripened medium banana
1/2 cup honey
1 cup walnut pieces
1/4 cup ground flaxseed
1/4 cup nonfat dried milk
1/4 cup raw or toasted wheat germ
4 cups rolled oats, not instant
1 1/2 cups (total) raisins and/or dried cranberries
Preheat oven to 325° F and mist a 9 x 13-inch pan with cooking spray.
Cream peanut butter, banana and honey together in a stand mixer.
Blend in walnuts, flaxseed, dried milk and wheat germ.
Add rolled oats and stir until combined.
Distribute evenly in prepared pan.
Bake for 60-75 minutes, removing pan to stir granola every 15 minutes, turning over the larger chunks for even browning. Note: granola will bake—and potentially burn—more quickly in a dark pan.
Once granola is toasted and golden, remove pan and turn off oven.
Stir dried fruit into granola and return pan to oven, which should remain off.
After 10-15 minutes, remove pan and allow granola to cool completely.
Once cooled, store at room temperature in a tightly sealed container.
© Liesl K. Bohan  |  SavvyBaker.com