Sweetened primarily with apple juice, these 5-ingredient treats are all natural and packed with fruit, fiber, nuts and flavor. They are easy to mix and bake, and you don't have to "sacrifice" your favorite homemade granola as a main ingredient.
If you have granola to spare, I also recommend the following recipes: Chewy Peanut Butter Power Bites, Easy Peanut Butter Granola Bars and Hunky Chunky Granola Squares.
I have tried many variations of this recipe, and until now all included apple juice concentrate. With one exception, I thought the results were too sweet, so I wanted to try juice alone. Fearing the difference might be too obvious to our kids, I sprinkled a bit of sugar on top. That did the trick. They loved 'em, and I'm pleased with the fact that these have fewer calories than previous versions. Depending upon your audience, you could skip this optional sixth ingredient.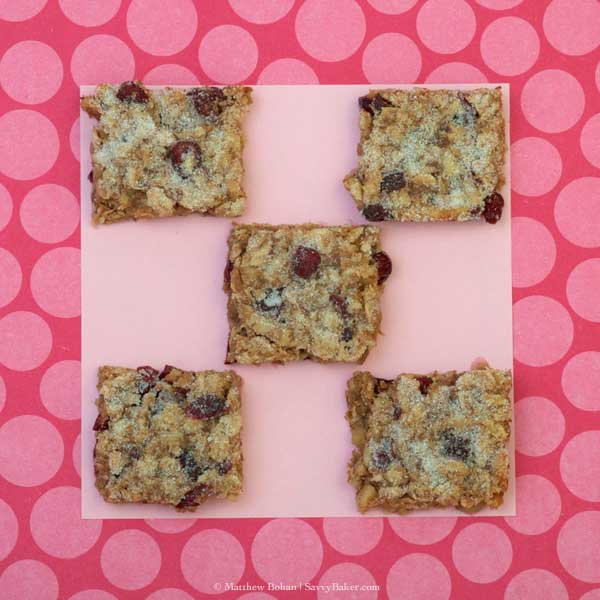 Easy Cranberry Apple Bars
Makes 16 squares
1 1/2 cups rolled oats
1/2 cup crushed walnuts
1/2 cup dried cranberries
1/2 cup creamy or crunchy natural peanut butter
1/2 cup apple juice
1 tablespoon sugar for topping (optional)
Preheat oven to 325° F and mist an 8-inch square baking pan with cooking spray.
Combine oats, walnuts and cranberries in a large bowl.
Add peanut butter and apple juice and blend until fully combined.
Transfer to prepared pan and distribute evenly, using moistened fingers to flatten and press into edges and corners.
Sprinkle with sugar, if desired.
Bake for 20 minutes, until set and golden.
Remove pan to wire rack to cool.
After 15 minutes, cut into squares. Bars may be a little crumbly.
Place individual pieces in separate plastic snack bags for easy, portable snacks or store in an airtight container at room temperature for up 5 days. Alternatively, refrigerate in sealed bags or containers for up to two weeks.
© Liesl K. Bohan  |  SavvyBaker.com