I've always loved sunflower seeds in bread, and I'm a big fan of oats. Needless to say, when Matt came up with this recipe a few weeks ago, I was hooked. The "nut" and honey breads I grew up with were hearty, dense whole wheat loaves with sunflower seeds in every bite. This bread features the seeds and honey but delivers them in a lighter loaf.
Slices from the oven-baked loaf are sturdy enough to support a sandwich, while the airier slices from the machine-baked version are better toasted and buttered or simply enjoyed "as is." Either version is outstanding at breakfast or served alongside soup or salad later in the day.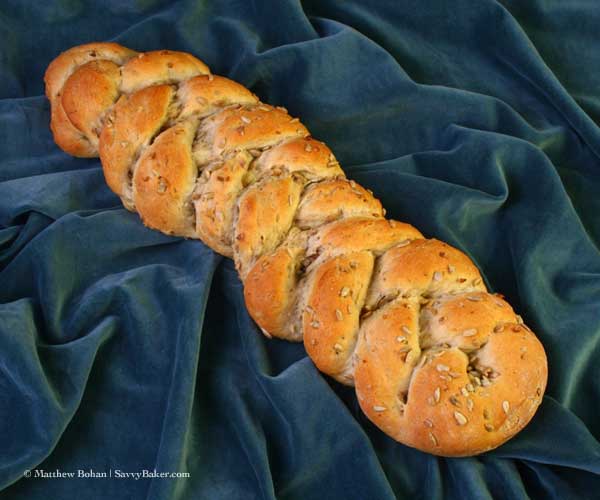 Sunflower Oat Bread
Adapted from The Bread Machine Cookbook II by Donna Rathmell German
Makes one 2-pound loaf
1 1/3 cups nonfat milk
3 tablespoons canola oil
3 tablespoons honey
1 teaspoon salt
1 cup rolled oats (not instant)
1 cup whole wheat flour
2 cups bread flour
2 1/4 teaspoons rapid or instant yeast
1/2 cup roasted or toasted unsalted sunflower seeds
Hand-formed Dough Version
Add all ingredients to bread machine in the manufacturer's recommended order and run the dough cycle.
Cover a large baking sheet with cooking spray or a Silpat mat.
Using lightly floured hands, form dough into a cylinder about the length of the pan, then flatten, slice into thirds lengthwise, and braid. (See Challah post for demo photos.) Pinch together braided edges.
Cover and allow dough to rise for 30-45 minutes. Preheat oven to 350° F.
Bake for about 20 minutes or until golden and the bread sounds hollow when tapped.
Once baked, cool for at least 20 minutes before slicing.
Bread Machine Version
Add all ingredients except sunflower seeds to bread machine in the manufacturer's recommended order. Use the "basic" or "fruit and nut" setting for a 2-pound loaf.
Add sunflower seeds at the beep.
Once baked, cool for at least 30 minutes before slicing.
Store in a tightly sealed container at room temperature for 2-3 days.
© Liesl K. Bohan  |  SavvyBaker.com