This recipe was a wonderful surprise. I always hope my concoctions are at least comparable to their lower-fiber, higher-sugar counterparts, but the real reward comes when they are even better. Methinks that's the case here.
Like my Protein-Packed Peanut Butter Granola, these biscotti not only taste fantastic, but they are also loaded with protein and fiber. One or two make for a satisfying afternoon snack that should tide you over until dinner. That's because this recipe is a veritable kitchen sink of grains and seeds.
Unfortunately, the diverse list of ingredients may be a challenge for those who haven't stocked up at a natural foods store recently. The good news is that if you do buy something new specifically for this recipe, you can Google countless recipes in which to use the excess. I'm betting, however, that you'll save it to make these again and again!
As you may know, it's recommended that flaxseed be kept whole in a cool, dark place until grinding. Once ground, I refrigerate what's left to extend its shelf life. I also store soy flour, almond meal and wheat germ in the refrigerator.
Note: the best price I've seen for almond meal is at Trader Joe's, where one pound sells for about $3.50, approximately $7.00 less than at the large chain grocery store nearby! If you find a comparable price anywhere else, please let me know.
(As promised, here's my inherited demitasse prop again.)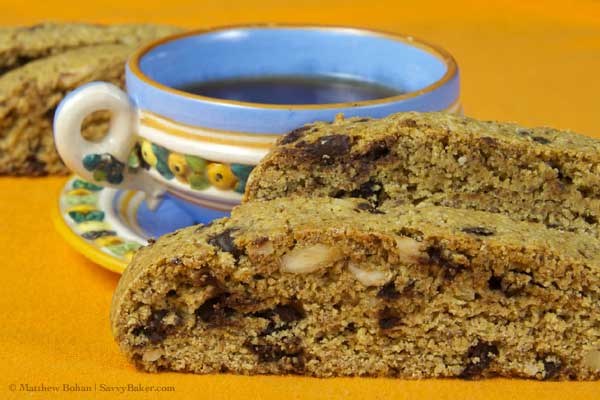 Protein-Powered Chocolate Nut Biscotti
Makes about 2 dozen biscotti
2 cups whole wheat flour
3/4 cup brown sugar
1/2 cup soy flour
1/2 cup almond meal
1/4 cup wheat germ
1/4 cup ground flaxseed
2 teaspoons baking powder
1/8 teaspoon salt (optional)
3 eggs
1/4 cup vanilla soy milk
2 tablespoons almond butter
2 teaspoons almond extract
1 teaspoon vanilla extract
1/2 cup slivered almonds
1/2 cup mini semisweet chocolate chips
Preheat oven to 350°F. Cover a large baking sheet with cooking spray or a Silpat mat.
Combine first eight ingredients (whole wheat flour through salt) in the bowl of an electric stand mixer. (This dough is probably too stiff for a hand-held mixer.)
Whisk together eggs, soy milk, almond butter and extracts in a medium bowl or blender.
Pour wet ingredients into flour mixture, blending on low speed until mostly combined.
Stir in almonds and chocolate chips and mix until dough starts to pull together. Dough will be crumbly.
Turn dough out on Silpat mat or on a work surface dusted with flour.
Using wet (for Silpat only) or lightly floured hands, shape into a log about 16 inches long, 4 inches wide and 1 inch thick.
Bake 30 minutes at 350° F.
Remove from oven and cool for 10 minutes. Reduce oven temperature to 325° F.
Cut log diagonally into 1/2-inch slices, placing slices upright on the mat or pan.
Bake 20 minutes at 325° F.
Transfer to racks to cool.
Store in an airtight container at room temperature for 5-7 days. To extend storage time, freeze in an airtight container immediately after cooling.
© Liesl K. Bohan  |  SavvyBaker.com