This superb breakfast bread is a snap to make if you have all of the ingredients on hand. The only "exotic" item is pineapple juice concentrate; I keep a can in the freezer for this and similar recipes. Excellent toasted and buttered, this bread also makes wonderful French toast.
Inspired by a recipe for rolls in The Bread Machine Cookbook VI by Donna Rathmell German, I tried six variations before finally perfecting this loaf. Each version tasted great, but none rose well enough to share—until now. (After finally getting the bread to cooperate, part of Matt's camera broke while shooting this. Kudos and thanks to the "savvy hubby" for figuring out a workaround so I could post it today!)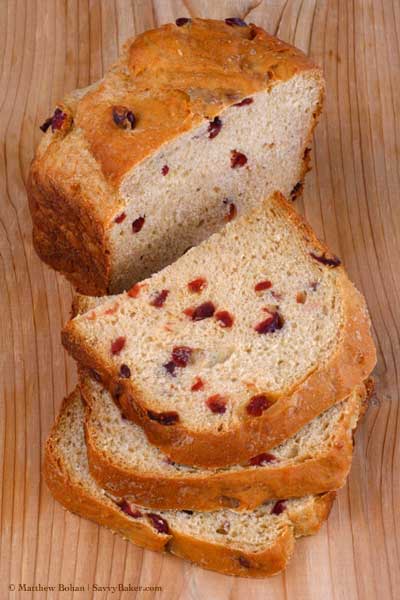 Pineapple Cranberry Oat Bread
Makes one 2-pound loaf
1 cup skim milk
1/3 cup pineapple juice concentrate
1 egg
3 tablespoons butter
1/4 cup lightly packed brown sugar
1 teaspoon salt
1 cup rolled oats, not instant
1 cup whole wheat flour
2 cups bread flour
2 1/4 teaspoons rapid or instant yeast
1 cup dried cranberries
Add all ingredients except dried cranberries to bread machine in the manufacturer's recommended order. (These are listed in the order best suited for our machine and for instant yeast.) Use the "sweet" or "fruit and nut" setting for a 2-pound loaf.
Add dried cranberries at the beep.
Once baked, cool for at least 30 minutes before slicing.
Store in a tightly sealed container at room temperature for 2-3 days.
© Liesl K. Bohan  |  SavvyBaker.com