If you like tropical fruit or are in the mood for a "taste of the islands," this might be just what you need.
The pineapple juice concentrate in this granola would be well accompanied by almost any combination of coconut and dried tropical fruit, including bananas, pineapple, papaya or mango.
I opted for dates and coconut in one batch (pictured) and—for my coconut-averse loved ones—raisins with dried cranberries in another. Though the latter wasn't exactly tropical fare, both combos are excellent in conjunction with the pineapple and almonds.
As always, if you give this a try, let me know what you think and which combos work for you.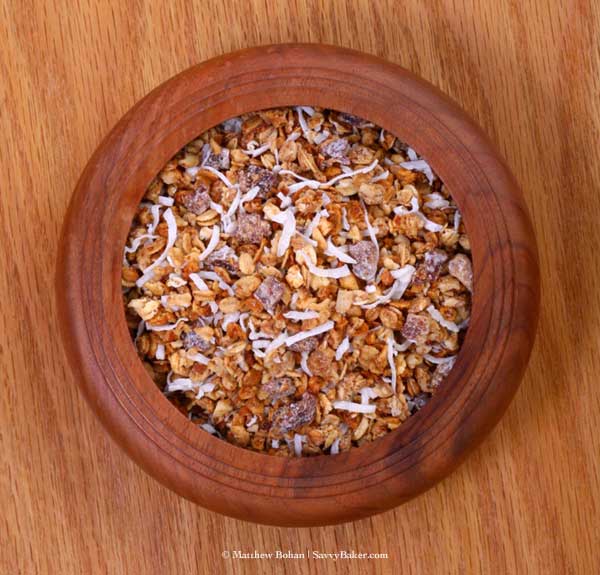 Pineapple Almond Granola
Makes about 13 one-cup or 26 half-cup servings
7 cups rolled oats (not instant) or a combination of rolled oats, rye, barley and wheat
1 cup chopped almonds
1/2 cup almond meal
pinch of salt
1/2 cup pineapple juice concentrate
1/2 cup almond butter or a combination of almond and peanut butter at room temperature
1/2 cup honey
1 teaspoon almond extract
3 cups dried fruit: any combination of diced or chopped dried fruit, including pineapple, bananas, dates, raisins, papayas, mangoes, cranberries or coconut (sweetened or unsweetened flakes)
Preheat oven to 325° F and mist a 9 x 13-inch pan with cooking spray.
Thoroughly combine rolled grains, almonds, almond meal and salt in a large bowl.
Carefully whisk together pineapple juice concentrate, nut butter(s), honey and almond extract in a mid-sized bowl.
Pour wet ingredients into dry ingredients, stirring until everything is evenly coated.
Transfer to prepared pan and distribute mixture evenly in pan.
Bake until golden, about 75 minutes, removing pan every 15 minutes to stir granola.
Remove pan, turn off oven, and stir dried fruit into granola.
Return pan to cooling oven, which should remain off.
After 10-15 minutes, remove pan and allow granola to cool completely.
Once cooled, store at room temperature in a tightly sealed container.
© Liesl K. Bohan  |  SavvyBaker.com