At last, the "savvy husband" shares his cherry bagel recipe! Because of the required boiling and baking, Matt prefers to make these during the winter months, but he's been so busy that we had to wait 'til spring.
Why bother making bagels at home? Because they are less expensive than store bought and taste great! Besides, not everyone has a bagel shop right around the corner. In fact, there have been times when I couldn't find anything but frozen bagels, if that, when visiting my hometown in Tennessee, so I know they aren't readily available for everyone. There's also something to be said for getting to mix and match your favorite ingredients.
Despite my enthusiasm for these delicious, home-baked bagels, you may notice that I don't make them on my own. There seems to be an art to getting them right, and Matt's the only one in our house who has mastered it. (Perhaps he'll share his Asiago bagel recipe soon. It has saved us a fortune by preventing regular trips to Panera Bread for theirs.)
If you give these a try, let us know how it goes. We'd love to hear from you.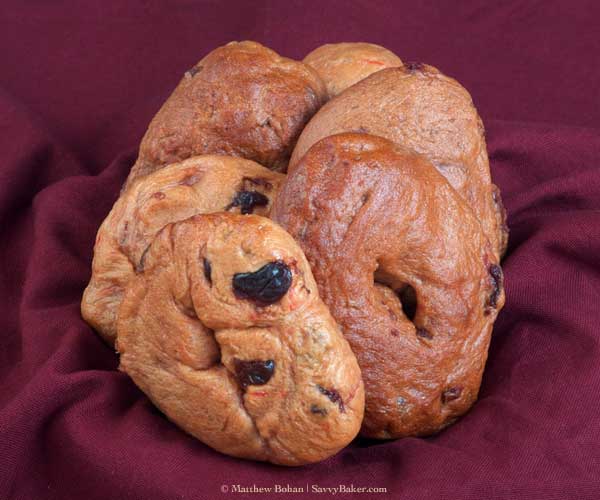 Matt's Cherry Bagels
This recipe is adapted from The Best Bagels Are Made at Home by Dona Z. Meilach, which also includes instructions for mini bagels, bagel sticks and other variations.
Makes 12-16 bagels (2 pounds)
1 1/4 cups water
1 cup dried tart cherries
1/4 teaspoon red food coloring
2 medium eggs
3 tablespoons canola oil
3 tablespoons molasses*
1 1/2 teaspoons salt
1 cup whole wheat flour
3 cups bread flour
2 1/2 teaspoons rapid or instant yeast
2 tablespoons molasses (for the water)
* For easier pouring, use the same tablespoon to measure molasses after oil.
Add all ingredients except "water" molasses to bread machine in the manufacturer's recommended order. (These are listed in the order best suited to our machine and instant yeast.)
Run the dough cycle and remove dough upon completion.
Lightly dust a work surface or Silpat mat with flour. Turn dough out onto prepared surface or mat. With lightly floured hands, divide dough into 12-16 equal balls.
Working one at a time, stick your thumb through each dough ball and rotate dough until the hole reaches desired width. Keep in mind that the hole will shrink as the bagel rises.
Cover and allow bagels to rise for 30 minutes or until doubled in size.
While dough is rising, add 2 tablespoons of molasses to a large, wide pot filled with water (about two-thirds full) and bring water to a boil.
Preheat oven to 400° F and cover a large baking sheet with a Silpat mat or a light coat of cooking spray.
After dough has risen, carefully drop bagels into boiling water in sets of three (to prevent crowding). Boil for 30 seconds on each side, turning with a slotted spoon at the halfway point. Use the same spoon to transfer bagels to a wire rack to drain. Repeat with the next set.
Once dry, place bagels on prepared pan and bake for 20-25 minutes, until tops are golden.
Allow to cool before slicing.
Store in a tightly sealed container at room temperature for 2-3 days.
© Liesl K. Bohan  |  SavvyBaker.com