This is essentially a chunky version of my Chewy Peanut Butter Power Bites. With protein from multiple sources, these treats are great for a mid-morning snack or afternoon pick-me-up.
Though other granolas would probably work, I recommend using Banana Nut Granola or Peanut Butter Granola Surprise for this recipe. For a sweeter version, you could use Protein-Packed Peanut Butter Granola, but these are already dessert-like as is.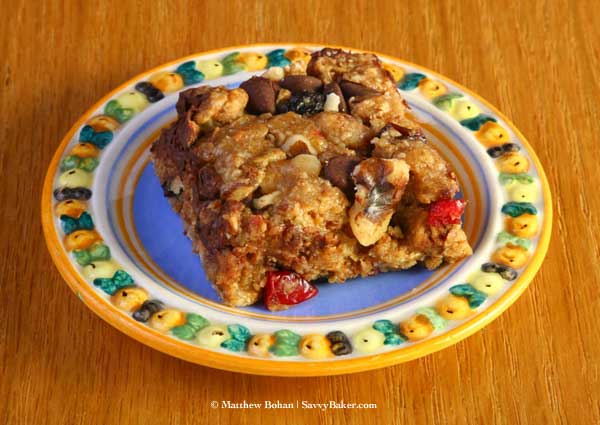 Hunky Chunky Granola Squares
Makes 16 squares
3 cups peanut butter granola
1/4 cup almond meal
1/4 cup wheat germ
1/4 cup nonfat powdered milk
1/2 cup peanut butter (creamy or crunchy)
1/2 cup honey
1 teaspoon vanilla extract
3/4 cup crushed walnuts
1/2 cup chocolate chips
Preheat oven to 325° F and mist an 8-inch square baking pan with cooking spray.
Combine granola, almond meal, wheat germ and powdered milk in a large bowl. Set aside.
Cream peanut butter and honey together in a stand mixer. Add vanilla and blend.
Pour granola mixture into peanut butter mixture and blend until combined.
Stir in walnuts and chocolate chips. Mixture will be crumbly.
Transfer to prepared pan and distribute evenly, using moistened fingers to press into edges and corners.
Bake for 20 minutes, until set and golden.
Remove pan to wire rack to cool.
After 10-15 minutes, cut into squares.
Place individual pieces in separate plastic snack bags for easy, portable snacks or store in an airtight container at room temperature for up to a week. Alternatively, refrigerate in sealed bags or containers for up to two weeks.
© Liesl K. Bohan  |  SavvyBaker.com