When I posted Peanut Butter Granola Surprise, I mentioned that I would eventually create a recipe combining the best features of that and my Protein Powered Peanut Butter Granola. Well, here it is, a favorite quick bread flavor combo in granola form! Peanut butter still plays a prominent role, but the bananas shine though well enough to be featured in the title.
Since our granola always disappears so quickly, I designed this recipe to make almost twice as much as the other ones I've shared. Unfortunately, it maxed out the capacity of my electric stand mixer. I had to stir it by hand because using the paddle caused ingredients to go shooting out of the bowl. If your 5-quart mixer comes with a lid, you'll probably be fine. Otherwise, grab your largest mixing bowl and your sturdiest long-handled spoon and get ready for a workout!
Speaking of taxing my equipment, my blender didn't appreciate the task assigned to it for this recipe either. If yours is finicky, you might want to opt for the stovetop method instead.
As for substitutions, if you don't have any rolled grains other than oats, use 8 cups of oats total, and if you don't have almond butter, use another 1/2 cup of peanut butter.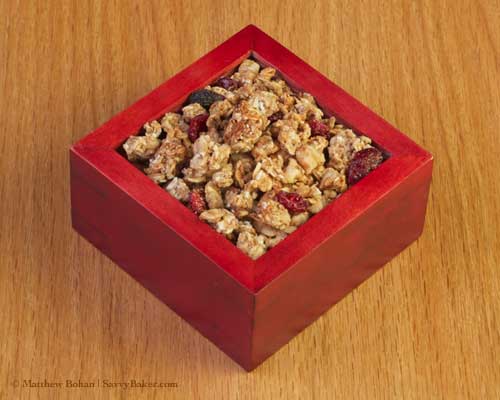 Banana Nut Granola
Makes about 16 (one-cup) or 32 (half-cup) servings
4 cups rolled oats (not instant)
4 cups rolled barley, wheat or rye (or more oats)
1 1/2 cups crushed walnuts
1/2 cup unsalted sunflower seeds
1/2 cup wheat germ
1/2 cup almond meal
1 1/2 medium, well-ripened bananas
3/4 cup apple juice concentrate, thawed
1/4 cup honey
1 cup creamy or crunchy regular peanut butter* at room temperature
1/2 cup crunchy almond butter at room temperature
2-3 cups dried fruit: any combination of raisins, dried cranberries, dates and/or golden raisins (optional)
*If using unsalted natural peanut butter, you might want to add a couple of tablespoons of honey and a dash of salt.
Preheat oven to 325° F and mist two 9 x 13-inch pans with cooking spray.
Thoroughly combine rolled grains, walnuts, sunflower seeds, wheat germ, almond meal and brown sugar in a (very) large bowl.
Combine apple juice concentrate, bananas and honey in a blender or food processor and puree. Add nut butters and process until well combined. (Alternatively, whisk all of these ingredients together in a saucepan over low heat until well blended.)
Pour banana mixture into dry ingredients, stirring until everything is evenly coated.
Transfer mixture to prepared pans, dividing equally between the two pans and spreading evenly in each pan.
Bake for 30 minutes at 325° F, removing pans halfway through bake time to stir granola. Make sure all pieces are overturned before returning pans to oven.
Remove pans and reduce oven temperature to 250° F.
Stir granola, moving outer portions to the center to facilitate even browning.
Bake for 30 minutes at 250° F, removing pans halfway through bake time to stir granola.
Remove pans, turn oven off, and stir dried fruit into granola.
Return pans to cooling oven, which should remain off.
After 10-15 minutes, remove pans and allow granola to cool completely.
Once cooled, store at room temperature in a tightly sealed container.
© Liesl K. Bohan  |  SavvyBaker.com