After just one try, we'd have to say this recipe is a "keeper." Intended for—and excellent as—sandwich rolls, these turned out to be just sweet enough to serve at breakfast as well. Given their multi-grain ingredients, these are surprisingly light and fluffy. You'd never guess they contain a high-protein, high-fiber combo of cracked wheat, steel cut oats, barley grits, soybean grits, buckwheat grits, corn grits and millet.
If you haven't tried it already, seven-grain cereal is usually available in the cereal or baking aisle of the natural foods section in large grocery stores. Ingredients vary from brand to brand. For example, the one I used and described above is 7 Grain Hot Cereal from Arrowhead Mills. A product with the same name from Bob's Red Mill features whole grain wheat, rye, oats, triticale, barley, brown rice, oat bran and flaxseed. One from Country Life Natural Foods includes a mix of grains from each of the others. All should work well in this recipe.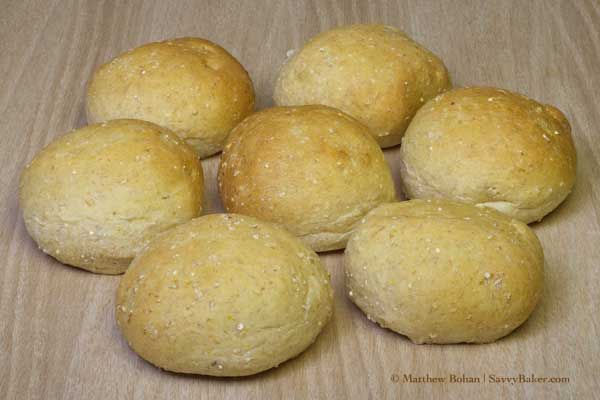 Seven-Grain Rolls
This is adapted from a recipe in The Better Homes and Gardens Biggest Book of Bread Machine Recipes.
Makes 8-10 rolls
3/4 cup nonfat milk
2/3 cup unsweetened applesauce
1 egg
1 tablespoon canola or olive oil
3 tablespoons honey*
1 teaspoon salt
2 cups bread flour
1 1/3 cups whole wheat flour
2/3 cup seven-grain cereal
2 teaspoons rapid or instant yeast
* For easier pouring, use the same tablespoon to measure honey after oil.
Add all ingredients to bread machine in the manufacturer's recommended order. Run the dough cycle and remove dough upon completion.
Cover a large baking pan with a Silpat mat or a light coat of cooking spray.
With lightly oiled hands, divide the dough into 8-10 equal pieces. Shape into balls and place on prepared pan.
Cover and let rise in a warm, draft-free location for 30-45 minutes.
Preheat oven to 350° F.
Bake for about 20 minutes, until tops are golden and rolls sound hollow when tapped.
Remove pan, then rolls, to a wire rack to cool.
Store in a tightly sealed container at room temperature for 2-3 days.
© Liesl K. Bohan  |  SavvyBaker.com