These rustic, nutritious rolls are packed with protein, fiber and flavor. The taste of sourdough dominates, complemented by milk and honey and further enhanced by the nuttiness of bulgur wheat.
Gorgeous on their own, these are also perfect for sharing in a basket with butter and jam on the side. Their hearty (and hardy) nature makes them well suited for deli sandwiches as well.
Note: while the interior of these rolls is charmingly soft and chewy, some of the bulgur on the outside may be crunchy. If your teeth are up to the task, it's well worth it. Otherwise, proceed with caution.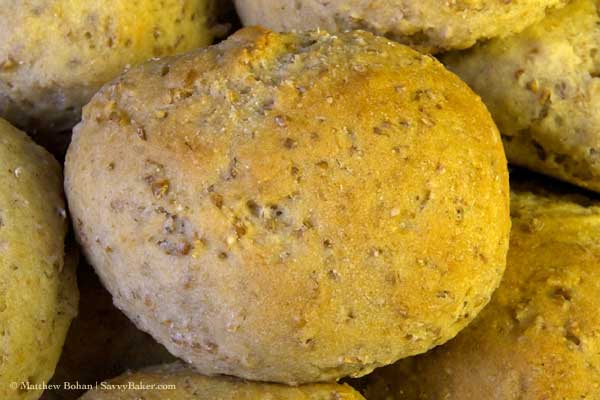 Multigrain Sourdough Cornmeal Rolls
This recipe is adapted from The Better Homes and Gardens Biggest Book of Bread Machine Recipes.
Makes 12 rolls
1 2/3 cups sourdough starter
2/3 cup nonfat milk or evaporated skim milk
3 tablespoons butter or margarine
3 tablespoons honey
1 teaspoon salt
2/3 cup bulgur wheat
2/3 cup cornmeal
2/3 cup oats
2/3 cup whole wheat flour
2 cups bread flour
2 teaspoons rapid or instant yeast
Add all ingredients to bread machine in the manufacturer's recommended order. Run the dough cycle and remove upon completion. (If your sourdough starter is on the thick side, you may need to add milk during the first knead cycle. Just watch it, and if it seems too dry, add a tablespoon at a time until it forms a well-rounded ball.)
Cover a large baking pan with a Silpat mat or a light coat of cooking spray.
With lightly oiled hands, divide the dough into 12 equal pieces. Shape into balls and place on prepared pan.
Cover and let rise in a warm, draft-free location for 60 minutes.
Preheat oven to 350° F.
Bake for about 20 minutes, until tops are golden and rolls sound hollow when tapped.
Remove pan, then rolls, to a wire rack to cool.
Store in a tightly sealed container at room temperature for 2-3 days.
© Liesl K. Bohan  |  SavvyBaker.com