Like most of my biscotti recipes, this is loosely based upon one from Cooking Light magazine. As usual, I've included whole grains and reduced the sugar content. Adding cocoa powder was my idea, and I wholeheartedly endorse the results… yummy!
The Italian demitasse cup is from my grandmother, a gift from one of my grandfather's business trips to Europe in the 50s or 60s. We never use the set, but it seems appropriate for at least one cup to appear on this site alongside some Italian cookies. Watch for it again soon with more biscotti.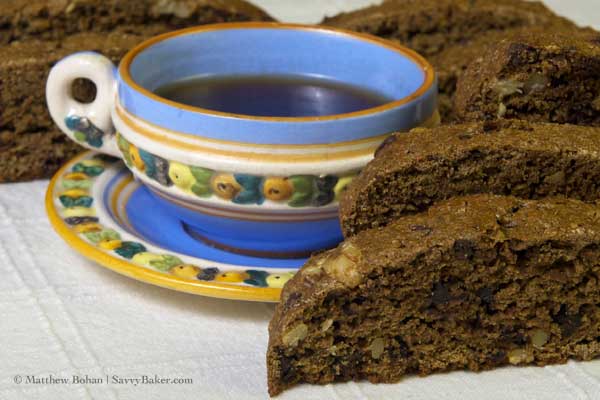 Mocha Nut Biscotti
Makes about 20 biscotti
1 3/4 cups whole wheat flour
1 cup all-purpose flour
2/3 cup brown sugar
1 tablespoon cocoa powder
2 teaspoons baking powder
1/8 teaspoon salt
3 eggs
1 tablespoon canola oil
1 tablespoon nonfat milk
2 teaspoons vanilla extract
1/4 cup instant coffee, regular or decaf
2 tablespoons hot coffee, regular or decaf
1/2 cup walnut pieces
1/2 cup mini semisweet chocolate chips
Preheat oven to 350°F. Cover a large baking sheet with cooking spray or a Silpat mat.
Combine first six ingredients (whole wheat flour through salt) in a large mixing bowl.
Whisk together eggs, oil, milk and extract in a small bowl.
In a small bowl or cup, stir instant coffee into hot coffee until dissolved. Add to egg mixture and stir until combined.
Pour wet ingredients into flour mixture, blending on low speed until combined.
Stir in walnut pieces and chocolate chips.
Turn dough out onto Silpat mat or a work surface dusted with flour.
Using wet (for Silpat only) or lightly floured hands, shape into a 15-inch long log and flatten to a 1-inch thickness.
Bake 30 minutes at 350° F.
Remove from oven and cool for 10 minutes. Reduce oven temperature to 325° F.
Cut log diagonally into 1/2-inch slices, placing slices upright on the mat or pan.
Bake 20 minutes at 325° F.
Transfer to racks to cool.
Store in an airtight container at room temperature for 5-7 days. To extend storage time, freeze in an airtight container immediately after cooling.
© Liesl K. Bohan  |  SavvyBaker.com