I don't really know how many different mac 'n cheese recipes I've tried, but there have been quite a few. Part of the challenge for me is keeping track of the good ones. Because of my ongoing obsession with cookbooks, our shelves are regularly stocked with the latest editions from our library. The resulting frequent turnover makes it difficult to remember which book, magazine or website had the specific recipe we all liked. Perhaps sharing my adaptations of our favorites here will help.
This particular recipe is a conglomeration of at least three others, one of which features yogurt and the other two winter squash. With less cheese and cholesterol than many macaroni and cheese recipes, it's somewhat easier on the heart and waistline. Not as gooey as similar pasta bakes, its texture sets it apart. One of our children loved it, while the other objected to the "crunchy parts."
If you prefer thicker "slices" than those pictured, use a smaller baking dish. (See note below.)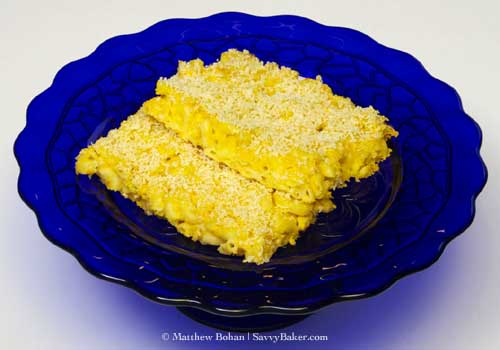 Mac and Cheese Bake #37
Serves 4-6
2 cups uncooked elbow macaroni, preferably multigrain
1 cup lowfat or nonfat cottage cheese
3 oz. extra-sharp cheddar cheese, grated (about 1 cup)
1/2 cup nonfat yogurt or reduced fat sour cream
1/2 cup cooked pumpkin or butternut squash
1 egg
1/2 teaspoon ground mustard
1/2 teaspoon salt
1/8 teaspoon white pepper
2 tablespoons bread crumbs, preferably whole grain
2 tablespoons grated Parmesan cheese
Prepare pasta according to directions on package. Drain.
While pasta is cooking, preheat oven to 350° F and mist a 9 x 13-inch baking pan with cooking spray.*
Combine cottage cheese, cheddar, yogurt (or sour cream), pumpkin (or squash), egg, mustard, salt and pepper in a blender. Puree.
Put drained pasta in a large bowl. Pour cheese mixture over pasta and stir to combine.
Spread pasta mixture evenly in prepared pan. Sprinkle bread crumbs and Parmesan over top.
Bake for 25 minutes or until bubbly.
* Using a large pan accelerates the cooking time, but you can use a 7 x 11-inch baking dish instead. Just increase the cooking time by 5-10 minutes.
© Liesl K. Bohan  |  SavvyBaker.com