These scones are based upon a summer favorite I've made for many years. Impatient for blueberry season, I decided to use frozen berries instead. The resulting scones taste wonderful, but because of the consistency of the thawed berries, their color and texture are decidedly different from those made with fresh blueberries. Scones made with the latter are primarily biscuit-colored with blueberry polka dots, while these are embellished with purple swirls. As for texture, these are a bit like a cross between a muffin and a scone, earning high scores from all tasters.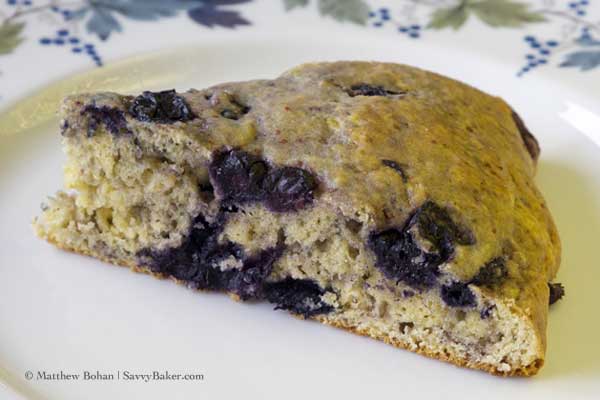 Frozen Blueberry Scones
Adapted from Simply Scones by Leslie Weiner and Barbara Albright.
Makes 8 scones
2 1/4 cups 50/50 flour mix*
1/3 cup brown sugar
6 tablespoons unsalted butter, chilled and cut into pieces
2 teaspoons baking powder
1/2 teaspoon salt
2 large eggs or 1/2 cup egg substitute
2 tablespoons nonfat vanilla yogurt
2 tablespoons nonfat milk
1 teaspoon vanilla extract
1 1/2 cups thawed, drained frozen blueberries
* A 50/50 all-purpose/whole wheat flour combo is available in stores, but I mix my own for about half the price. If you don't have a mix ready, use 1 1/4 cups of all-purpose and 1 cup whole wheat flour for this recipe.
Preheat oven to 375° F and cover a large baking sheet with a Silpat mat or cooking spray.
Combine first five ingredients (flour through salt) in a food processor and pulse until mixture resembles coarse crumbs. Alternatively, cut butter into dry ingredients using fingers, knives or a pastry cutter. Transfer to a large mixing bowl.
Whisk together eggs or egg substitute, yogurt, milk and vanilla in a small bowl.
Add egg mixture to flour mixture and blend just until dough is fully moistened. Stir in blueberries.
Transfer dough to Silpat mat or prepared pan and, using moistened hands, shape into a 9-inch round. (Dough will be wetter than typical scones.)
Bake for 18-21 minutes, until lightly browned and a toothpick inserted into the center comes out clean.
Remove pan to wire rack to cool for about 10 minutes, and then transfer scones to rack to continue cooling.
Slice scones into 8 wedges and serve warm or at room temperature.
These can be stored in a tightly sealed container at room temperature for up to two days. Refrigerate any leftovers at that time.
© Liesl K. Bohan  |  SavvyBaker.com