These chewy, preservative-free bars taste a bit like a crunchy cross between Rice Krispies Treats® and old-fashioned peanut butter cornflake cookies. If you start with a granola that is low in fat and sugar, they can serve as a protein-packed treat containing just a fraction of the fat and calories found in many store-bought granola bars, some of which have enough sugar to more closely resemble a candy bar than granola.
The batch pictured below was made with a homemade granola that contained no added sugar or honey. It definitely needed a sweetness boost, so I opted for a full 1/2 cup of brown sugar. As noted in the recipe, that amount can be adjusted or omitted to complement your granola and suit your sweet tooth.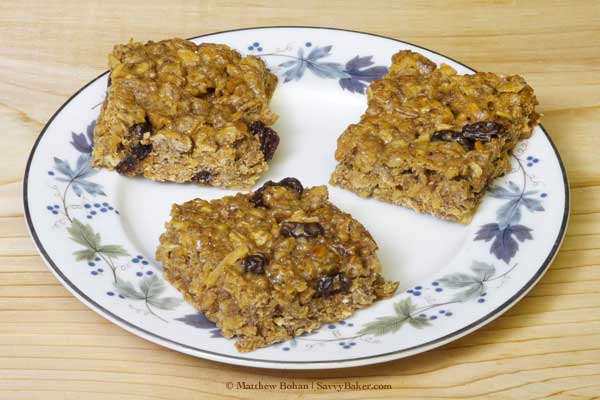 Easy Peanut Butter Granola Bars
1/2 cup creamy peanut butter
1/4 – 1/2 cup brown sugar, optional (adjust to taste depending upon granola)
2 eggs
1 teaspoon vanilla extract
4 cups granola
Preheat oven to 325° F and line a 9 x 13-inch baking pan with foil or parchment paper, leaving the edges up for easy removal.
Put peanut butter and brown sugar in a large microwaveable bowl and warm for 1 minute at half power. Stir to combine thoroughly.
Add eggs and vanilla to peanut butter mixture, stirring until well combined.
Pour granola into peanut butter mixture and stir until granola is thoroughly coated.
Transfer mixture to prepared pan and distribute evenly, using moistened fingers to press into edges and corners.
Bake for 18-20 minutes, until set and golden.
Remove pan to wire rack to cool for 5 minutes.
Carefully lift foil or paper out of pan and transfer to cutting board. Cut granola into bars or squares, and then return to wire rack to cool completely.
Place individual pieces in separate plastic snack bags for easy, portable snacks or store in an airtight container at room temperature for up to a week.
© Liesl K. Bohan  |  SavvyBaker.com