Every once in a while, you just want a dose of chocolate. If you can stop after one slice, bread like this allows you to indulge your craving without all of the butter and sugar typically found in chocolate candy, cookies, brownies or cakes. In addition to antioxidants from cocoa, this treat offers the whole-grain benefits of oats as well as vitamins and minerals from the cherries.
I have tried several chocolate yeast breads over the years and have liked almost all of them. I plan to share a few variations on this site, so here's round one, featuring cherries and a hint of almond. Enjoy!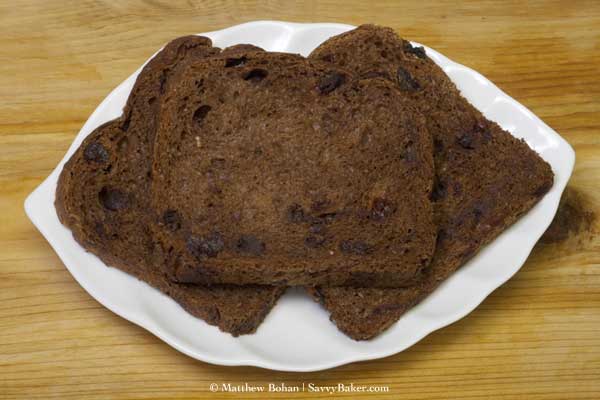 Double Chocolate Cherry Bread
Makes one 2-pound loaf
1 cup nonfat milk
2 tablespoons butter or margarine
2 eggs
1/3 cup packed brown sugar
1 teaspoon vanilla extract
1/4 teaspoon almond extract
1 teaspoon salt
1 cup rolled oats, not instant
1/4 cup cocoa
2 1/2 cups bread flour
1 1/2 teaspoons rapid or instant yeast
1/2 cup dried cherries
1/2 cup chocolate chips
Add all ingredients except cherries and chips to bread machine in the manufacturer's recommended order.* Use the "sweet" or "fruit and nut" setting for a 2-pound loaf.
Add cherries and chips at the beep.
Once baked, cool for at least 30 minutes before slicing.
Store in a tightly sealed container at room temperature for 2-3 days.
* The ingredients in this list are in optimized order for our Breadman Pro machine and for mixing instant yeast directly into the bread flour.
© Liesl K. Bohan  |  SavvyBaker.com