If you've been thinking about trying steel-cut oats, this recipe may be just the inspiration you need. As noted in a previous post, this nutty, chewy whole grain is a nutritious treat. One serving (1/4 cup dry) contains only 170 calories plus 7 grams of protein and 5 grams of dietary fiber (20% Daily Value). It's also a good source of iron, offering 10% of the Daily Value.* Adding walnuts provides even more protein, fiber and iron.
Chocolate may make this seem more appropriate for a mid-afternoon snack than breakfast, but I have to admit that I couldn't pass it up this morning. By my calculations, it has about 350 calories** per serving, and as a way to kick-start the day—regardless of the caffeine—it offers enough fiber and protein to keep your stomach satisfied for hours. Speaking of coffee, true aficionados may want to use two cups and skip the water entirely.
Recipes found on the kitchn and Erin's Food Files, both of which look absolutely amazing, inspired this mocha-infused update of my earlier post, Creamy Vanilla Steel-cut Oats. Using nutella® was Erin's idea, a stroke of pure genius. It makes this irresistible. If you don't have any on hand, try stirring in a few chocolate chips with the walnuts instead. You could also use a splash of your favorite coffee creamer. Although this mixture looks exactly like no-bake chocolate oatmeal cookies, the coffee keeps it from being overly sweet.
Because of the cooking time, I like to make steel-cut oats on the weekend and microwave the leftovers for breakfast during the week. Look for steel-cut oats in the cereal or natural foods section of your grocery store or in bulk at natural foods stores. Depending upon where you buy them, they may seem pricey, but a little goes a long way.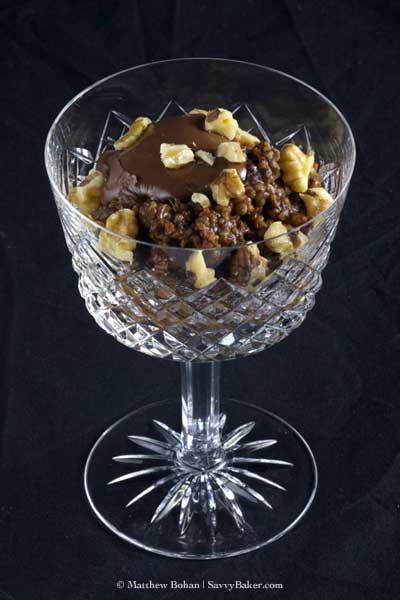 Creamy, Chewy, Chocolatey Mocha Walnut Oats
Makes 4-6 servings
1 cup water
1 cup brewed coffee (Appalling as it may be to some, I use refrigerated leftovers.)
1 cup steel-cut oats
1/4 cup lightly packed brown sugar
1 teaspoon vanilla
dash of salt
2 tablespoons cocoa powder
3/4 cup nonfat milk
1/4 cup crushed walnuts
2 tablespoons nutella or other chocolate hazelnut spread
Put water, coffee, oats, sugar, vanilla and salt in a medium saucepan. Cover and let stand overnight.
About an hour before breakfast, stir, replace cover, and set the heat on low.
Simmer for 45 minutes, stirring a few times to keep the mixture from sticking to the bottom of the pan.
After 45 minutes, add cocoa and combine thoroughly. Stir in milk, replace cover, and continue simmering for another 15 minutes. Keep an eye on it and stir more frequently during this period. Once the milk has been added, the mixture is more likely to stick and burn.
After 15 minutes, remove from heat, stir in walnuts and hazelnut spread, and keep covered.
Serve warm. Add milk or coffee creamer if desired.
Store leftovers in a sealed container in the refrigerator for four or five days, where they will transform into a gelatinous glob. Don't worry, for adding liquids during the reheating process will return them to normal. Just stop the microwave after a minute in order to stir in some water, milk, coffee or creamer.
* Based upon a 2,000-calorie diet for adults and children ages four years or older.
** Based upon four servings; it's closer to 280 for five and 240 for six. It's really filling, so I can easily get six servings out of one batch.
© Liesl K. Bohan  |  SavvyBaker.com