Happy St. Patrick's Day!
The first time I saw a recipe for carbonara I was impressed by its simplicity but a little uneasy about the eggs.* After making a batch, I was sold. Using just a few simple ingredients, it provides a great way to get a one-dish dinner on the table in less than 15 minutes. This version contains broccoli, but peas also work well.
Speaking of broccoli, sometimes our children are more likely to eat it with their pasta or rice if the pieces are miniscule. Consequently, I puree it for this recipe. If you are cooking for a less picky crowd, skip the food processor and stir in the broccoli florets as is. The St. Patty's Day green will be distributed differently—though perhaps in a more appealing way for a non-Seussian audience. (The yellowish-green shade of my dish looks a bit like something Dr. Seuss or Roald Dahl might cook up, visibly more suitable for kids than adults.)
I've found that angel hair, spaghetti and linguini pastas do a better job of cooking the eggs than macaroni, penne or other tube-shaped pastas. When I tried one of the latter, I ended up microwaving the supposedly finished dish in order to completely cook the eggs.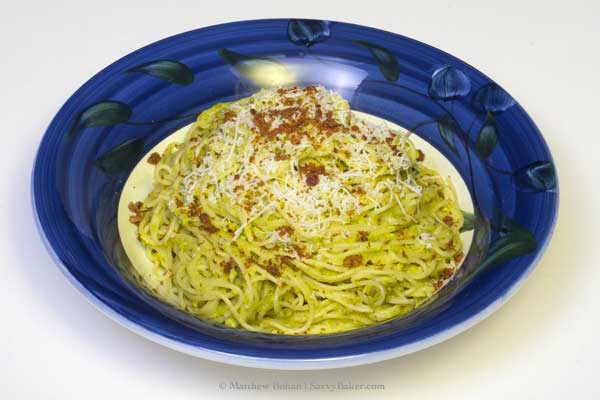 St. Patrick's Day Carbonara
Serves 4
3 eggs
1/4 cup nonfat milk
3/4 cup freshly grated Parmesan cheese
8 oz. frozen (or 2 cups fresh) broccoli florets, cooked and still warm
1/4 cup bacon pieces
3/4 teaspoon salt
1/2 teaspoon black pepper
12 oz. multigrain angel hair pasta (spaghetti or linguini will also work)
Heat pasta water, adding about 1/2 teaspoon of salt (optional).
In a large bowl, whisk together eggs, milk and Parmesan cheese
Chop, mince or puree broccoli with bacon pieces, salt and pepper in a food processor to the extent suitable for the palate of your pickiest eater. (If you want to keep the broccoli florets whole, just stir all of these ingredients together in a small bowl.)
Cook pasta according to package directions, reserving 1/2 cup pasta water just before draining.
Drain pasta, and then immediately add it to the egg mixture, tossing to combine and to cook eggs.
Add broccoli mixture and stir to combine. Thin with pasta water if desired.
Serve immediately.
*According to the American Egg Board (AEB), egg dishes for those who are pregnant, elderly, very young or ill should be thoroughly cooked. Their website notes that "reaching a temperature of 160°F or holding food at 145°F for 3-1/2 minutes will destroy SE (Salmonella Enteritidis) if it is present." It also states that these groups at highest risk should avoid consuming raw or undercooked eggs. Egg or egg-containing dishes should not be left at room temperature for more than one hour, including preparation and service time.
© Liesl K. Bohan  |  SavvyBaker.com