If you thought the Protein Powered Peanut Butter Granola I posted last week would be too rich for your palate, this recipe might be just what you're looking for. It is high in protein but does not have added sugar or honey. Unlike most of the recipes I've tried, this scrumptious granola forms crunchy-chewy clumps for easy spoon-free snacking.
While "regular" peanut butter and name-brand dried cranberries contain added sugar, this granola's subtle sweetness comes primarily from apple juice concentrate and the surprise: a well-ripened banana. As with most peanut butter granola recipes, banana chips would probably make a tasty addition, but I'm not convinced the added fat (and cost) would be worth it. (If you're going to add fat and calories, go with dark chocolate chunks!)
Given the speed with which our children devoured the first round of granola, I wasn't expecting them to like this as much. Lo and behold, it's disappearing just as quickly. You've got to love it when they enjoy food that's good for them!
I am thrilled with both recipes and plan to merge the two soon for a moderately sweet, protein-powered combo. Stay tuned, and thanks for visiting.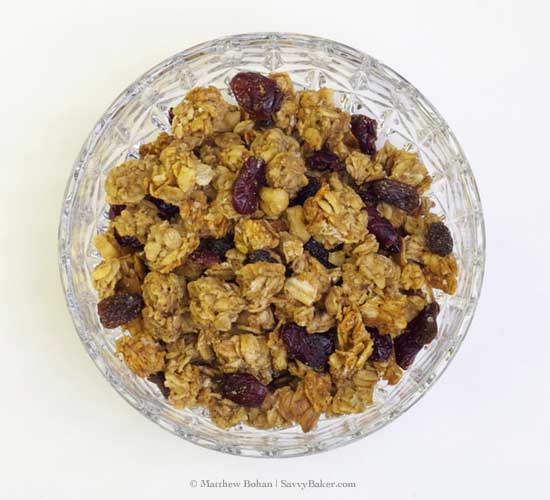 Peanut Butter Granola Surprise
Makes about 16 generous half-cup servings
3 cups rolled oats, not instant
2 cups rolled barley, wheat or rye (or oats)
1 cup crushed walnuts
3/4 cup creamy regular peanut butter*
1/2 cup apple juice concentrate
1 large, well-ripened banana, mashed
1 cup dried cranberries
1/2 cup raisins
*If you use unsalted natural peanut butter, you might want to add a couple of tablespoons of honey and a dash of salt to get similar results.
Preheat oven to 325° F and mist a 9 x 13-inch pan with cooking spray.
Thoroughly combine rolled grains and walnuts in a large bowl.
Whisk peanut butter, apple concentrate and banana together in a saucepan over low heat until well blended.
Pour peanut butter mixture into dry ingredients, stirring until everything is evenly coated.
Transfer mixture to prepared pan and distribute evenly.
Bake for 30 minutes at 325° F.
Remove pan and use a spatula to overturn granola in large sections.
Bake for 15 minutes more.
Remove pan and reduce oven temperature to 250° F.
Gently rearrange granola, moving outer portions to the center to facilitate even browning.
Bake for 15 minutes at 250° F.
Remove pan, turn oven off and stir cranberries and raisins into granola.
Return pan to cooling oven, which should remain off.
After 10-15 minutes, remove pan and allow granola to cool completely.
Once cooled, store at room temperature in a tightly sealed container.
© Liesl K. Bohan  |  SavvyBaker.com