Before trying the original version of this, I had seen a handful of oatmeal pancake recipes that looked appealing, but they all required overnight soaking. I wanted to be able to whip up thick, puffy oatmeal pancakes for breakfast without prior planning, and this recipe allows me to do just that.
In addition to the taste and texture, one thing I really like about these pancakes is that the batter isn't runny. I at least have a decent chance of making nice, round, presentable pancakes instead of the football-shaped oddities I typically create with thinner mixes.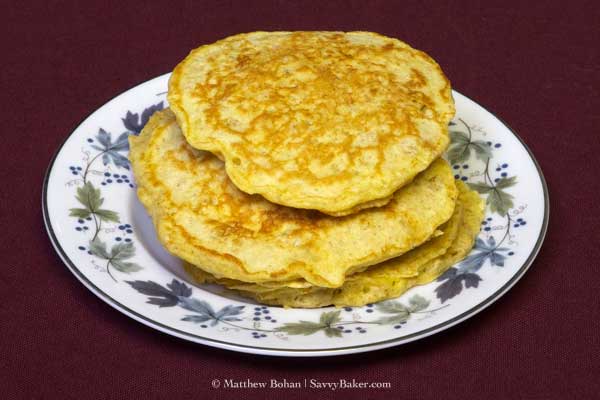 Oatmeal Buttermilk Pancakes
Adapted from The New Laurel's Kitchen by Laurel Robertson, Carol Flinders and Brian Ruppenthal
Makes 15 to 18 four-inch pancakes
1 3/4 cups nonfat buttermilk*
1 1/2 cups rolled oats, not instant
3 large eggs, beaten
1 1/2 tablespoons oil
3/4 cup whole wheat or all-purpose flour
1 1/2 tablespoons packed brown sugar
2 teaspoons baking powder
1/2 teaspoon salt
Combine the buttermilk and rolled oats in a bowl and let stand for at least 5 min­utes.
Stir in the eggs and oil, mixing well.
Add flour, brown sugar, baking powder and salt, mixing just until the dry ingredients are moistened.
Bake on a hot, lightly oiled griddle, using just under 1/4 cup of batter for each pancake.
* Though it adds to the prep time, I save money and storage space by making my own "buttermilk." In this case, put 1 1/2 tablespoons of white vinegar in a measuring glass, add enough skim milk to bring the total to 1 3/4 cups, and let it stand for 5 minutes before use.
© Liesl K. Bohan  |  SavvyBaker.com