Fried rice is a great way to use leftover rice and vegetables. If you make it without meat, it can also be an easy, speedy Friday-night dinner during Lent.
The only downside of this recipe is remembering to make extra rice a night or two before. Based upon my own attempt with freshly cooked, I'd have to say that cold rice definitely works better with this recipe. If you didn't make any ahead of time, just cook some at lunch on the day of and refrigerate it for at least three hours. Use brown rice or a 50/50 mix of brown and white, and this will qualify as a whole-grain meal.
Small bottles of toasted sesame oil are available in the Asian section of our large chain grocery store, and larger bottles—as well as cans—are located in the baking (oil) section. I tried substituting another oil in this recipe. Once. It didn't even come close to tasting right.
As for add-ins, try this once to see what you think and to get a sense of what it's "supposed" to taste like, then experiment. When we're not watching our meat intake, we like it with diced cooked chicken breast or pork. Broccoli, corn and sweet peppers are also attractive, flavorful add-ins. One of the most authentic "tastes-like-restaurant-made" add-ins is canned bean sprouts: just rinse and add about a cup with the shrimp or meat—or solo after the other veggies—and stir-fry for about 2 minutes. We think they're great, but our kids hate 'em.
A note for those who don't eat eggs during Lent: though I have seen an "eggs-optional" version of fried rice, I would not recommend trying this without them.
And finally, serve this with soy sauce the way my family likes, if you want, but go easy. I think it ruins it, but decide for yourself.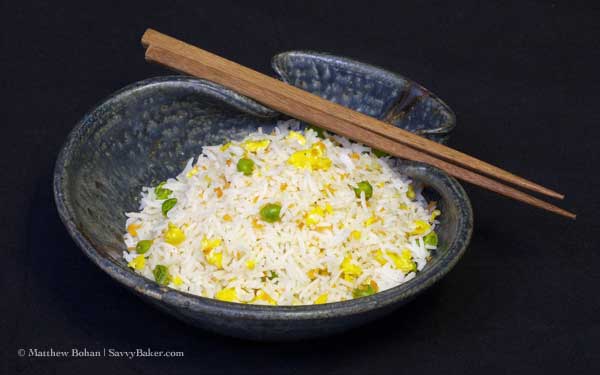 Lenten Fried Rice
3 eggs
1 tablespoon toasted sesame oil
5 cups cooked rice, refrigerated for at least 3 hours
1 medium carrot, grated or shredded
1 cup cooked peas
3/4 teaspoon salt
1/4 teaspoon black pepper
1 cup pre-cooked salad shrimp, thawed and rinsed (optional)
Lightly coat a deep skillet or wok with olive oil or sesame oil and set heat to medium.
Whisk together eggs and sesame oil.
Pour egg mixture into pan and stir-fry for about 2 minutes.
Add rice and stir-fry for about 3 minutes, breaking up all clumps.
Add carrot bits and stir-fry for about 2 minutes.
Add peas, salt and pepper, stir-frying for about 4 more minutes.
If desired, add salad shrimp and stir-fry for another 2 minutes.
Serve immediately.
© Liesl K. Bohan  |  SavvyBaker.com