According to the Society for the Preservation of Irish Soda Bread, the traditional version of this treat contains nothing more than flour, baking soda, salt and milk. Period.
Personally, I prefer the slightly sweetened, raisin-studded variations, so that's what I make. I've experimented with a handful of recipes over the years, and this one remains my favorite. When I use golden raisins instead of dark, it is reminiscent of the scones I used to get at Arabica, a pre-Starbucks coffee house in Cleveland. (I know; it's hard to imagine that Starbucks hasn't been in existence forever, but I've been around long enough to remember that it didn't expand beyond Seattle until the 90's.)
This recipe is adapted from an ancient copy of Martha Stewart Living.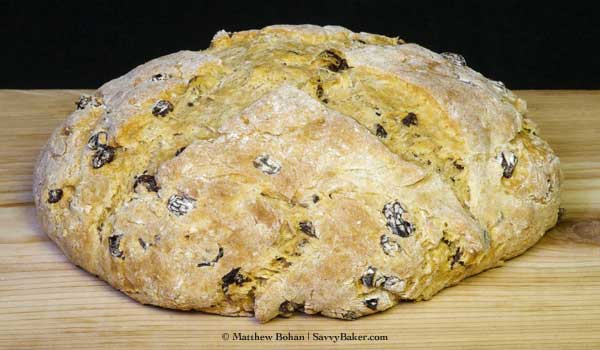 Irresistible Irish Soda Bread
Makes 1 round (loaf)
2 cups all-purpose flour
2 cups whole wheat flour
1/4 cup sugar
2 teaspoons baking powder
1 teaspoon salt
4 tablespoons unsalted butter, chilled
2 cups raisins
1 cup nonfat milk
1 egg
1/2 cup nonfat plain yogurt
1 teaspoon baking soda
Preheat oven to 400° F and cover a large baking sheet with a Silpat mat or cooking spray.
Whisk together flour(s), sugar, baking powder and salt in a large bowl.
Using knives, fingers or a pastry blender, cut butter into flour mixture until it resembles coarse meal.
Stir in raisins.
Whisk together milk, egg, yogurt and baking soda in a small bowl.
Make a well in the dry ingredients and pour the milk mixture in all at once. Stir until completely moistened and dough begins to hold together.
With floured hands, form dough into an 8-inch, dome-shaped round.
Transfer round to pan or Silpat mat, and score the top with a serrated knife, making an X about 1/4-inch deep.
Bake for about 1 hour, until it is golden brown and sounds hollow when tapped.
Remove loaf to wire rack to cool.
Most soda bread is best served warm or at room temperature on the day it is made, but this one is also good toasted and lightly buttered the next day.
This can be stored at room temperature in a tightly sealed bag or container for up to two days. It also freezes well.
© Liesl K. Bohan  |  SavvyBaker.com