If you have children and a bread machine, this nutritious and easy-to-make breakfast or snack bread may become a household favorite. It rises well and looks fabulous, especially to those who don't like the appearance of denser, darker whole-grain loaves. Its firm but light texture and raisin-studded slices are reminiscent of the Pepperidge Farm bread we sometimes had when I was little.
Though the raisins overshadow the applesauce in this bread, toasting enhances the apple and cinnamon flavors.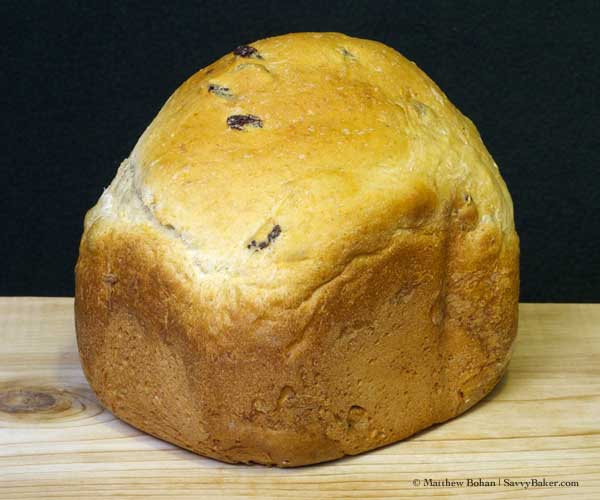 Hint-of-Apple Raisin Oat Bread
This recipe is adapted from The Better Homes and Gardens Biggest Book of Bread Machine Recipes.
Makes one 2-pound loaf
2/3 cup nonfat milk
1/3 cup unsweetened applesauce
2 eggs
2 tablespoons butter
3 tablespoons sugar
1 teaspoon salt
1/2 teaspoon cinnamon
3 cups bread flour
1 cup rolled oats, not instant
2 teaspoons rapid or instant yeast
2/3 cup raisins
Add all ingredients except raisins to bread machine in the manufacturer's recommended order. Use the "sweet" or "fruit and nut" setting for a 2-pound loaf.
Add raisins at the beep.
Once baked, cool for at least 30 minutes before slicing.
Store in a tightly sealed container at room temperature for 2-3 days.
© Liesl K. Bohan  |  SavvyBaker.com