For some reason—probably gingerbread cookies at Christmas time—I tend to associate gingerbread with winter. When temperatures dipped a month or so ago, I started experimenting with a gingerbread scone recipe I hadn't baked in years. With the usual "savvy" changes—added whole grains and reduced sugar and butter—the results are worth biting into any time of year.
Like my Banana Nut Scones, there are two ways to incorporate nuts into this recipe. The easy way is to mix them in along with the other ingredients. The other is to sprinkle a portion of the recommended amount across half of the surface of the dough just before baking—thus leaving half of the scones nut-free. I would not recommend this if you will be serving them to someone with true nut allergies. (I'm baking for someone with a no-walnuts preference.)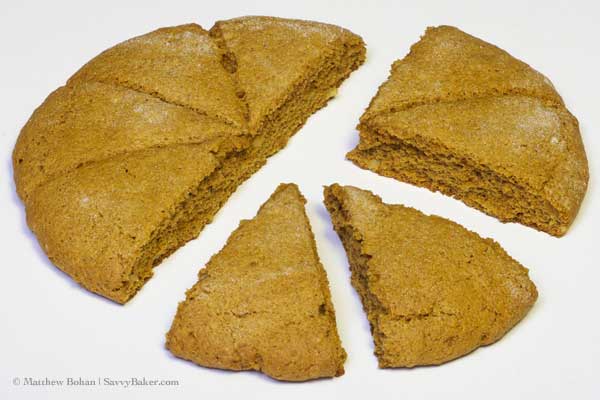 Gingerbread Nut Scones
Makes 8 scones
2 cups 50/50 flour*
3 tablespoons packed brown sugar
2 teaspoons baking powder
1 teaspoon ground ginger
1/2 teaspoon baking soda
1/2 teaspoon ground cinnamon
1/8 teaspoon salt
3 tablespoons chilled, unsalted butter
1/3 cup crushed walnuts
1 large egg
1/3 cup molasses
1/4 cup nonfat vanilla yogurt
1/2 teaspoon sugar for sprinkling, optional
* A 50/50 all-purpose/whole wheat flour combo is available in stores, but I mix my own for about half the price. If you don't have a mix ready, use 1 cup each of all-purpose and whole wheat flour for this recipe.
Preheat oven to 400° F and cover a large baking sheet with a Silpat mat or cooking spray.
Mix first seven ingredients (flour through salt) together in a large bowl.
Using knives, fingers or a pastry blender, cut butter into dry ingredients until mixture resembles coarse meal.
Stir in walnuts. (For the half-nuts version, wait a few steps.)
Whisk together egg, molasses and yogurt in a small bowl.
Add egg mixture to flour mixture and stir until batter starts to pull together.
With lightly floured or moistened hands, transfer dough to Silpat mat or prepared pan and shape into a flattened 8-inch round.
With a wet or floured knife, divide the circle into 8 wedges, cutting into but not completely through dough.
For the half-nuts version, sprinkle 2-3 tablespoons crushed walnuts across the surface of half of the dough and press in lightly.
Sprinkle sugar across the surface of the dough, if desired.
Bake for 18-21 minutes, until lightly browned and a toothpick inserted into the center comes out clean.
Remove pan to wire rack to cool for a few minutes, and then transfer scones to rack to cool for a few more minutes.
Slice or break at scores and serve warm or at room temperature.
These can be stored in a tightly sealed container at room temperature for 2-3 days.
© Liesl K. Bohan  |  SavvyBaker.com