Here's a fun way to put your sourdough starter to good use in something other than bread. The first sourdough pancakes I made were… um… sour. After several modifications to that recipe, I came up with these, which are tender, tasty and nutritious.
They're not the most photogenic pancakes I've made, but they are good. Be sure to give yourself enough time for the oats to soak in the first step.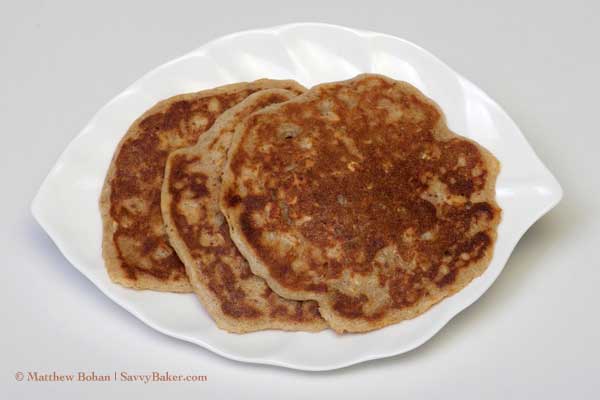 Easy Sourdough Oatmeal Pancakes
1 cup sourdough starter
1 cup rolled oats, not instant
1/2 cup nonfat milk
1 egg, beaten
1/4 cup almond meal (Trader Joe's Just Almond Meal costs less than any other I've seen.)
2 tablespoons canola oil
2 tablespoons honey
1 tablespoon vanilla
1/4 teaspoon salt
1 teaspoon baking soda
1 teaspoon water
Combine starter, oats and milk in a mixing bowl and allow to stand for about 30 minutes. (Shower time!)
When the starter mixture is ready, oil and preheat griddle or pan. (I use nonstick canola spray and a touch of butter.)
Add egg, almond meal, oil, honey, vanilla and salt to starter mixture and stir to combine.
When griddle is preheated, mix soda and water in a small bowl. Fold into batter.
Bake on prepared griddle using about 1/4 cup of batter for each pancake.
© Liesl K. Bohan  |  SavvyBaker.com