(Black Forest Biscotti)
This is based upon my all-time favorite biscotti recipe, Chocolate-Cherry Biscotti from Cooking Light magazine. The chocolate in that recipe comes from chips only, so I usually describe it as "cherry chocolate chip" biscotti. It already includes a cup of whole wheat flour; I added more and then replaced some of the all-purpose flour with cocoa.
My recipe also has 25% less sugar than the original, but my kids didn't seem to mind. They love this chocolatey treat, and I appreciate the fact that each biscotto has significantly less fat and sugar than a typical chocolate chip cookie.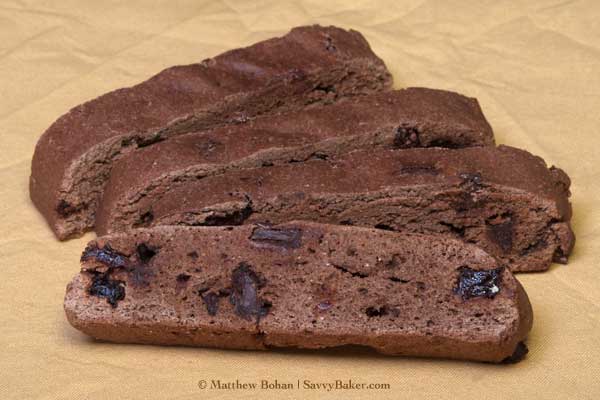 Double Chocolate Cherry Biscotti
Makes about 2 1/2 dozen biscotti
2 1/2 cups 50/50 all-purpose/whole wheat flour mix*
1/2 cup cocoa
1/4 teaspoon salt
3 eggs
3/4 cup sugar
2 tablespoons canola oil
2 teaspoons vanilla extract
1 1/2 teaspoons almond extract
1/2 cup dried cherries
1/2 cup semisweet chocolate chips or chunks
* Or 1 1/4 cups each all-purpose and whole wheat flour
Preheat oven to 350°F. Cover a large baking sheet with cooking spray or a Silpat mat.
Combine flour(s), cocoa and salt in a large mixing bowl.
Whisk together eggs, sugar, oil and extracts in a small bowl.
Pour egg mixture into flour mixture, blending on low speed until combined.
Add dried cherries and chocolate chips or chunks, mixing thoroughly.
Turn dough out on Silpat mat or on a work surface dusted with flour.
Using wet (for Silpat only) or lightly floured hands, shape into a 16-inch log about 3/4-inch thick and 4 inches wide.
Bake 30 minutes at 350° F.
Remove from oven and cool for 10 minutes. Reduce oven temperature to 325° F.
Cut log diagonally into 1/2-inch slices, placing slices upright on the mat or pan.
Bake 20 minutes at 325° F.
Transfer to racks to cool.
Store in an airtight container at room temperature for 5-7 days. To extend storage time, freeze in an airtight container immediately after cooling.
© Liesl K. Bohan  |  SavvyBaker.com