This is one of my rare cooking entries. Though they go in the oven for a while, these enchiladas certainly wouldn't be characterized as a baked good.
I obtained the original recipe for these from the food services division of a large university. The enchiladas served in their dining halls were exceptional. As usual, my changes include adding whole grains and reducing fat and calories. For example, my version calls for reduced fat sour cream and the use of 2 tablespoons of butter instead of 12 (yes, 12!). Despite the improvements, this is not a low-fat meal. Looking at the nutritional summary, in fact, might prevent you from ever ordering real cream-based enchiladas again.
In addition to the recommended Monterey Jack, I have successfully used Colby Jack as well as a mozzarella and cheddar combo (pictured).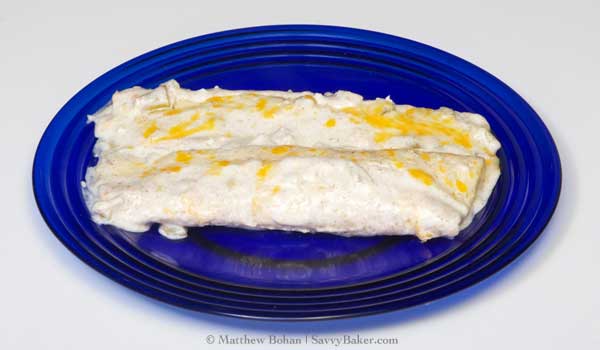 Creamy Chicken Enchiladas
Makes 8 enchiladas (4-8 servings)
3/4 pound (or one 12-oz. can, drained) cooked chicken breast, chopped into small pieces
1 cup shredded Monterey Jack cheese, divided
2 tablespoons butter
1/4 cup whole wheat flour
1 can (14 oz.) 99% fat free chicken broth
1 1/2 cups reduced fat sour cream
1 cup plain nonfat yogurt
1 can (4 oz.) diced green chili peppers
8 whole wheat or whole grain 8-inch tortillas
Preheat oven to 325° F and mist a 9 x 13-inch pan or casserole dish with cooking spray.
Stir together chicken and 2/3 cup shredded Monterey Jack cheese and set aside.
Make a roux* with butter and flour, then whisk in broth.
Remove from heat and whisk in sour cream, yogurt and peppers. Set aside.
Working one at a time, put 1/4 cup of chicken and cheese mixture on one side of a tortilla.
Spread mixture out to cover one third of the tortilla, and then roll it up from the covered side to the empty side.
Place seam-side down horizontally in pan. (See photo below.)
Repeat with remaining tortillas.
Sprinkle any remaining chicken and cheese mix along the outer edges of the tortillas, just inside the edge of the pan.
Pour sauce over the tortillas, spreading to completely cover all of them.
Sprinkle remaining 1/3 cup Monterey Jack cheese across the top of the sauce.
Bake 30 minutes, until hot and slightly bubbly. They shouldn't brown.
Allow to stand 5 minutes before serving.
* To make roux, melt butter in a thick-bottomed saucepan over medium heat. Add flour and stir to form a paste. Remove from heat, whisk in broth a little at a time to maintain a smooth consistency. Return to stovetop, stirring over medium heat until sauce has thickened. Proceed to next step (with sour cream, yogurt and peppers).
Estimated nutritional info per enchilada: 337 calories, 22 grams of fat, 25.5 grams of protein
© Liesl K. Bohan  |  SavvyBaker.com