Here's another installment of Incredible Ingredients, written to illustrate the health benefits of foods that appear time and time again on Savvy Baker.
Thanks in part to the readily available dried form, this fruit now goes way beyond its traditional Thanksgiving role. Though too tart to eat out of hand, fresh or frozen cranberries can be served in a multitude of baked goods. Dried cranberries can be eaten as is and used in a variety of dishes for breakfast, lunch, dinner or dessert.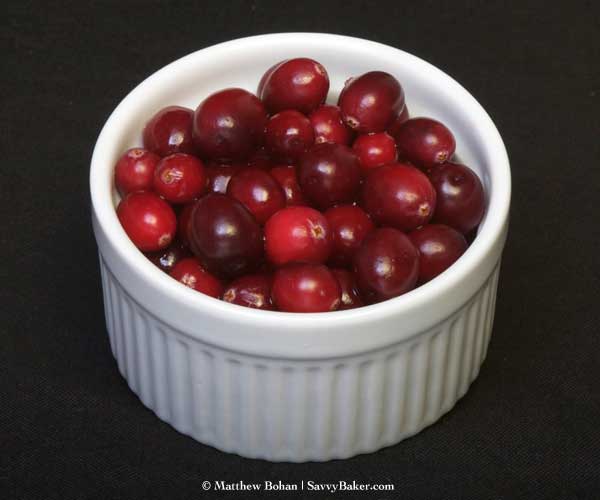 Cranberries: Did You Know?
Cranberries are very low in saturated fat and sodium and contain no cholesterol.
Not only are they a good source of vitamin E (alpha tocopherol) and vitamin K, but they are also a great source of dietary fiber, vitamin C and manganese.
According to the Cape Cod Cranberry Growers' Association, cranberries contain bacteria-blocking compounds believed to be helpful in preventing urinary tract infections.
Those same compounds are thought to assist in blocking the bacteria responsible for ulcers and certain oral bacteria that can lead to gum disease.
Research has shown that about 10 ounces of cranberry juice cocktail is needed each day to achieve the purported bacteria-blocking benefits.
That equates to 1 1/2 cups of fresh or frozen cranberries, 1 ounce of dried cranberries or 1/2 cup of cranberry sauce.
Studies have also found cranberries to have potential anti-carcinogenic and anti-aging properties, according to The Cranberry Institute.
MayoClinic.com notes that preliminary study results show cranberry juice may increase the overall ability to remember, stating that the results need to be confirmed with further clinical trials.
Fresh cranberries are available in stores mid-September through December. Buying them fresh during this time and freezing the extras provides year-round access.
Cranberries should not be washed before freezing. They can be stored in the freezer for up to a year if sealed in an airtight container.
It is not necessary to thaw frozen cranberries before using them, but like fresh cranberries, they should be rinsed and sorted before use. (Sorting is to remove any bad or undesirable berries.)
If you want some ideas for putting them to use, try my Double Cranberry Orange Muffins, Cranberry Orange Biscotti, Cranberry Orange Walnut Bread, Peanut Butter Banana Oat Cookies; one of the other recipes listed under Related Posts below; or a recipe from one of the following websites.
Sources and Resources
Cape Cod Cranberry Growers' Association
Wisconsin State Cranberry Growers Association
© Liesl K. Bohan  |  SavvyBaker.com