Before our youngest son began eating solid foods, this was our go-to morning meal. We revved up the bread machine to bake a loaf at least twice a week. And then came Timmy. If it's a baked good, he'll try it. If it contains walnut pieces, it will come back out.
We tried a few substitutes for the walnuts, but the only one that came close to being as good in this recipe was pumpkin seeds. The end result tastes good and looks great—especially at Christmas with the green seed and red cherry combination—but pumpkin seeds are pricey and somewhat hard to find. (Some would say the same of dried cherries, but we've found good deals on them in bulk at Sam's Club and Meijer.) We tried using sunflower seeds as well. Despite boasting excellent taste and texture when featured in many honey-wheat combinations, they were somewhat boring in this loaf. Ultimately, we switched to breakfast options everyone could enjoy.
I recently decided to resurrect this recipe for Savvy Baker. It's definitely worth sharing. I prefer this hearty fruit and nut bread sliced, toasted and lightly buttered. Toasting enhances the flavor of the walnuts, which complement the texture of the oats and the sweetness of the cherries. If you like walnuts, this is a whole-grain breakfast you'll turn to again and again.
Note: when our budget allows, we use walnut oil instead of canola in this recipe. Roasted walnut oil is expensive but boosts the flavor in this and similar baked goods. It's also a natural source of omega 3, making it a great choice in homemade salad dressings and pasta sauces.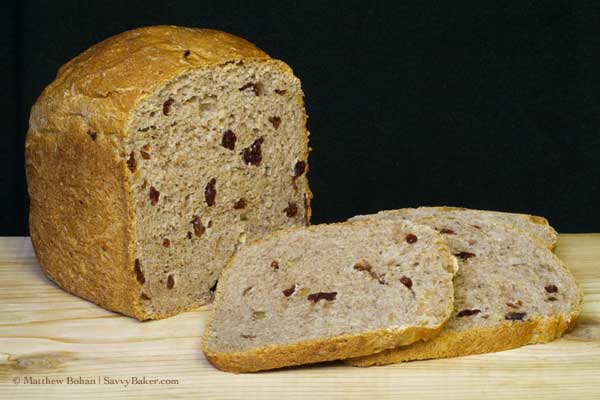 Cherry Walnut Bread
This recipe is adapted from The Bread Machine Cookbook III by Donna Rathmell German.
Makes one 2-pound loaf
1 1/2 cups nonfat milk
2 tablespoons canola or roasted walnut oil
4 tablespoons honey*
3/4 teaspoon salt
2 cups bread flour
1 cup rolled oats, not instant
1 cup whole wheat flour
2 teaspoons rapid or instant yeast
2/3 cup dried cherries
1/2 cup crushed walnuts
* Honey can be a mess to measure, so I typically add oil first and then use the same tablespoon for the honey rather than switching to an un-oiled measuring cup for the same amount (1/4 cup).
Add all ingredients except cherries and nuts to bread machine in the manufacturer's recommended order. Use the "sweet" or "fruit and nut" setting for a 2-pound loaf.
Add cherries and nuts at the beep.
Once baked, cool for at least 30 minutes before slicing.
Store in a tightly sealed container at room temperature for 2-3 days.
© Liesl K. Bohan  |  SavvyBaker.com