I have loved banana bread since I was a kid, and when our bananas ripen to only-good-for-baking condition, that's the first thing that comes to mind. Given the typical one-hour minimum prep and bake time, I don't always feel like making it. This bread machine recipe helps put aging bananas to good use without requiring a lot of time in the kitchen. It takes longer to bake than quick bread, but unlike the oven, I don't mind leaving my bread machine unattended.
Because of the chocolate chips, this loaf is a bit extravagant for breakfast. It is, however, perfect for an afternoon snack. If you want to serve it for breakfast, just replace the chips with crushed walnuts or the dried fruit of your choice. (Of course, you could also go the opposite route, skipping the fruit and nuts altogether and using a full cup of chocolate chips. This creates a more decadent bread, excellent with a cup of coffee.)
If you stick with the chips called for in the recipe below, you can take your pick of the accompanying fruit or nuts. Personally, I'm not a big fan of combining raisins and chocolate, but I do it in this bread because 1) my son won't touch it with walnuts, which would be my preferred add-in, 2) they add a nutritional boost to this guaranteed "down the hatch" snack, and 3) my children devour it.
Note: if you are baking for someone with milk allergies, you can replace the milk with water and use fruit or nuts instead of the chips.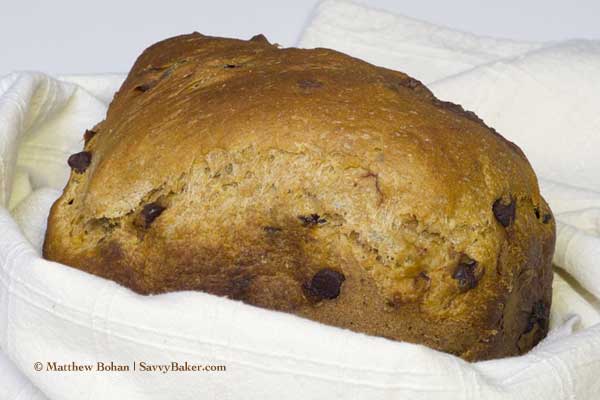 Banana Chocolate Chip Snack Bread
This recipe is adapted from The Bread Machine Cookbook V by Donna Rathmell German. I've been using variations of her recipe for almost 15 years.
Makes one 2-pound loaf
2/3 cup nonfat milk
1 egg
2 tablespoons canola oil
4 tablespoons honey*
1 1/2 well-ripened medium bananas, sliced
1 teaspoon salt
2 cups bread flour
1 1/2 cups whole wheat flour
2 teaspoons rapid or instant yeast
1/2 cup chocolate chips
1/2 cup raisins, crushed walnuts, dried cranberries or chopped, dried cherries
* Honey can be a mess to measure, so I typically add oil first and then use the same tablespoon for the honey.
Add all ingredients except chocolate chips and dried fruit or nuts to bread machine in the manufacturer's recommended order. Use the "sweet" or "fruit and nut" setting for a 2-pound loaf.
Add chips and dried fruit or nuts at the beep.
Once baked, cool for at least 30 minutes before slicing.
Store in a tightly sealed container at room temperature for up to three days.
© Liesl K. Bohan  |  SavvyBaker.com