As mentioned in our Adventures with Sourdough Starter post, Matt (the "Savvy Husband") is our new sourdough "pro" (not his term). He's had fun experimenting with a variety of add-ins and techniques, and the rest of us have thoroughly enjoyed our jobs as taste testers. I have to admit, however, that the ingredients for this particular recipe concerned me at first. Originally dubbed Peanut Butter Poppy Seed Sourdough, it sounded a bit, er, unusual. In retrospect, that's probably because I'm used to seeing poppy seeds paired with lemon in sweeter fare.
Fortunately, Matt was on to something. His add-ins to the original white sourdough recipe—peanut butter, wheat germ and poppy seeds—combined with a partial rye flour substitution produce a loaf that is both good-looking and tasty! As an added bonus, all of the changes contribute extra protein to the bread, albeit in small doses.
All told, the modifications are probably more obvious in the appearance, not the flavor, of this bread. In addition to serving as an attractive, hearty foundation for deli-style sandwiches, it's great sliced and toasted with a little butter.
As for the "surprise" in the title, I decided to allow the peanut butter to remain somewhat anonymous.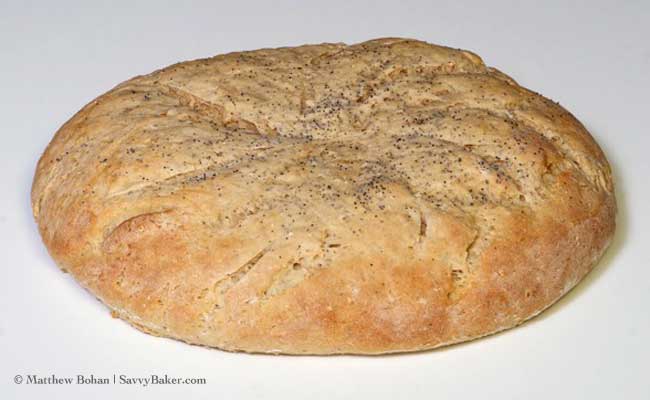 Seeded Sourdough Surprise
3/4 cup + 1 tablespoon starter
1 1/2 cups water
2 tablespoons smooth peanut butter
2 tablespoons wheat germ
1 teaspoon poppy seeds
4 teaspoons sugar
2 teaspoons salt
3 cups bread flour
1 cup rye flour
2 1/4 teaspoons instant or rapid yeast
cornmeal for dusting
additional poppy seeds for topping (optional)
Add all ingredients (except cornmeal and extra poppy seeds) to your bread machine in the manufacturer's recommended order. Run the dough cycle.
Once completed, remove dough from machine and place on a Silpat mat or cornmeal-dusted surface, forming into a large, somewhat flattened oval.
Place in the center of a baking sheet that has been lightly coated with cooking spray and dusted with cornmeal.
Cover and let rise in a warm location for 60-90 minutes. With 15 minutes to go, preheat oven to 400° F.
Brush with cold water, sprinkle with poppy seeds and bake for 15 minutes.
After 15 minutes, lower the temperature to 350° F and bake for an additional 5-10 minutes, until golden. The bread should sound hollow when tapped.
Cool before slicing.
© Liesl K. Bohan  |  SavvyBaker.com