I have to admit that when I first saw the recipe this is adapted from, I was dubious. I loved the idea of saving time and money by using a microwave instead of the less energy-efficient oven, but I didn't think it would really work. Lo and behold, it does!
I have played around with this quite a bit, and not all versions are as crunchy as the original, but that's partly because I've cut out a significant amount of oil. If you like ultra-crunchy, super-sweet granola, this may not be for you. If you're watching your calories and your budget, this low-oil, no honey or maple syrup version may become a favorite.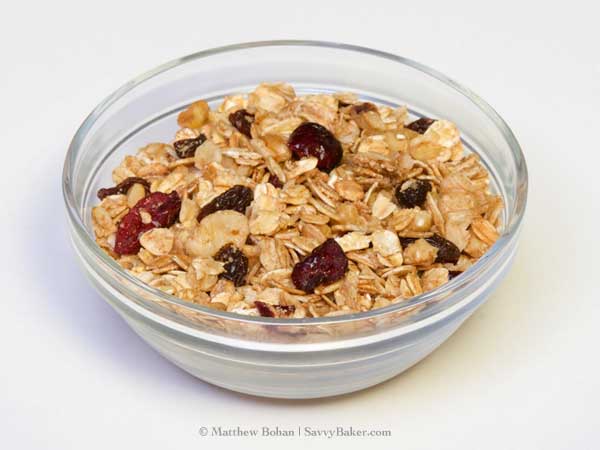 Quick and Easy Apple Cinnamon Granola
4 cups rolled oats, not instant
1 cup crushed walnuts
6 tablespoons brown sugar
1 1/2 teaspoons cinnamon
1/4 cup apple juice concentrate (I keep a can on hand in the freezer)
1 tablespoon canola oil
1 cup (total) raisins and/or dried cranberries
Combine the oats, walnuts, brown sugar and cinnamon in a large bowl and mix well.
Add apple juice concentrate and oil to the dry ingredients and stir until combined.
Transfer to a shallow microwave-safe baking dish and microwave on high for 2 minutes.
Remove dish, stir well and then microwave on high for 2 more minutes. Repeat once or twice, stopping to stir at one-minute intervals to prevent burning.
Overall, the granola should be in the microwave for a total of 6-8 minutes, until lightly browned. It should not be in for more than 2 minutes at a time.
After cooking, stir in dried fruit and spread in a large, shallow pan to cool.
When cooled completely, store at room temperature in a tightly sealed container.
© Liesl K. Bohan  |  SavvyBaker.com