This recipe is adapted from Peanut Butter Planet, a great cookbook by Robin Robertson. My version includes whole grains (oats), more protein (egg) and less sugar (by one tablespoon) than the original. It's also easier on the wallet because I use brown sugar instead of maple syrup.
This is another breakfast option enjoyed by my "I-don't-like-peanut-butter" kid. It would be handy if he'd eat peanut butter and jelly sandwiches at lunch, but since that's not going to happen anytime soon, at least I can get him to start the day with some protein this way.
We refrigerate the leftovers and toast them for breakfast the next morning, so I slightly underbake the last waffle in preparation for toasting.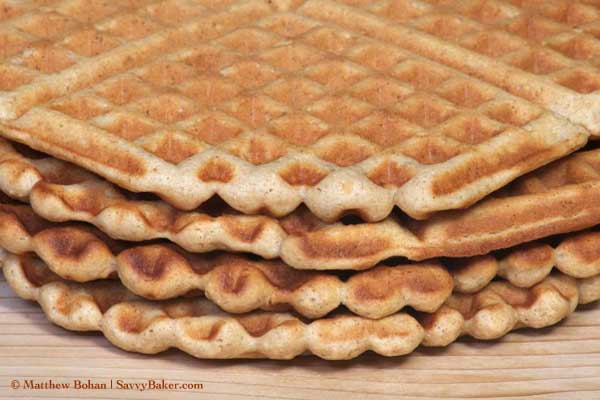 Peanut Butter Oat Waffles
Makes 4 waffles
1 cup all-purpose flour
2 teaspoons baking powder
1 1/4 cups nonfat milk
1/2 cup smooth peanut butter
1/2 cup rolled oats, not instant
3 tablespoons brown sugar
2 tablespoons canola oil
1 egg
1 teaspoon vanilla
Preheat waffle iron.
Whisk together flour and baking powder in a medium bowl and set aside.
Put all remaining ingredients in a blender and puree for about a minute.
Pour wet ingredients into dry and whisk just until smooth.
Scoop about 3/4 cup of batter onto iron for each waffle, baking as directed by the manufacturer.
Serve warm.
Refrigerate leftovers in a tightly sealed container for 2-3 days.
© Liesl K. Bohan  |  SavvyBaker.com