This recipe is adapted from Andrea Chesman's 366 Delicious Ways to Cook Rice, Beans, and Grains, which also has a great pumpkin bread recipe—one of the few I've found that doesn't call for an inordinate amount of oil and sugar.
As noted below, 50/50 all-purpose/whole wheat flour combos are available in stores, but I mix my own for about half the price. A five-pound bag of whole wheat flour is currently $2.99 at our local large-chain grocery store, just 80 cents more than the comparable all-purpose flour. The price of a five-pound bag of the 50/50 combo is slightly less the cost of buying both of the others. (See comments for more info.)
Also, if you've never bought oat bran before, don't be intimidated. You can usually find it in the cereal section, sometimes in an inexpensive store-brand box.
Dried cherries are excellent with peaches, but I suspect that they are even pricier elsewhere than in Michigan. If you want a more readily-available alternative, try raisins or dried cranberries.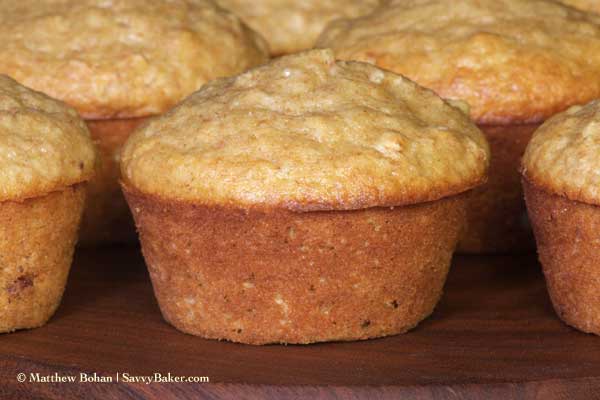 Peach and Cherry Oat Muffins
Makes 12 muffins
2 cups 50/50 flour combo*
1 cup rolled oats (not instant)
1/4 cup oat bran
1/2 cup sugar
2 1/2 teaspoons baking powder
1/2 teaspoon salt
1/2 teaspoon cinnamon
1 cup nonfat milk
2 large eggs
1/4 cup canola oil
1/2 cup dried cherries
1 cup well-drained sliced, fresh, canned or frozen (thawed) peaches
* A 50/50 all-purpose/whole wheat flour combo is available in stores, but you can mix your own.
Preheat oven to 400° F and mist a 12-cup muffin tin with cooking spray.
Combine first seven ingredients (flour through cinnamon) in a large bowl and mix well.
Put next four ingredients (oil through cherries) in a blender and process just until cherries are chopped.
Add peaches to blender and process just until peaches are chopped to the liking of your most picky eater. I'd recommend just a few pulses if you're baking for adults. (I like them somewhat chunky, but my youngest prefers that the pieces be barely visible.)
Pour the peach mixture into the dry ingredients, stirring just enough to moisten.
Divide the batter evenly among prepared muffin tins.
Bake for about 20 minutes, until a toothpick inserted into the center of a muffin comes out clean.
Cool muffins in pan on wire rack for 5 minutes before removing muffins to rack to cool further.
These are delicious warm or cool.
Store in a tightly sealed container at room temperature for up to two days.
© Liesl K. Bohan  |  SavvyBaker.com