This one-dish meal is a great way to use leftover pasta and broccoli. Variations of it usually include onions, but not this one. (Sorry, but the only way they make an appearance in our kitchen is if the children bring in ornamental ones from the garden.) Anyway, my first renditions of this—including the one pictured—included salt but not bacon. Since the children ate them, I deemed them perfect for us, but I worried that the "missing" onions might equate to a lack of taste for other people. So, I added a little bacon and—Voila!—more flavor. Of course, the extra flavor contributes more fat and calories as well, so include or exclude accordingly.
As always, let me know what you think. I'm particularly interested in hearing about experiments with herbs and spices. I've seen basil, thyme and marjoram used in some versions of this. What do you like?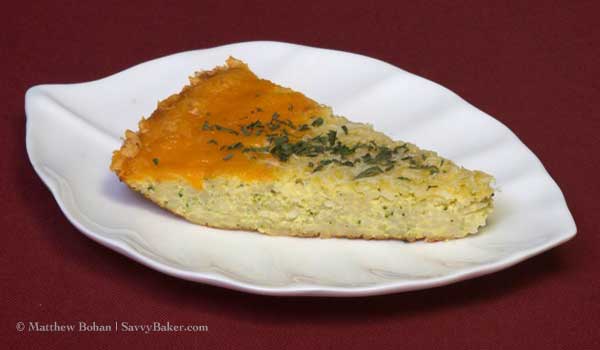 Pasta Ricotta Frittata
6 eggs
8 oz. (half of a 16 oz. container) reduced fat ricotta cheese
1/2 cup evaporated nonfat milk
1/4 cup bacon pieces, optional
3 oz. grated Asiago, Parmesan or cheddar cheese
1/2 teaspoon ground mustard
Dash ground pepper
1 cup cooked broccoli, chopped
4 oz. dry pasta, cooked and drained (our kids prefer angel hair, pictured)
2 oz. grated mozzarella or cheddar cheese for topping, optional
Puree first seven ingredients (eggs through pepper) in a blender or food processor.
Pour egg mixture over broccoli and pasta in a large bowl and stir until well combined.
Pour into a well-oiled skillet, cover loosely and cook over medium-low heat for 5-8 minutes without stirring.
While mixture is cooking, cover skillet handle with aluminum foil—unless it's iron, in which case it doesn't need the protection.
When most of the frittata looks set, remove from heat. (See image below.) Sprinkle optional grated cheese over the top.
Place skillet under a broiler just long enough to allow the top to set and brown slightly. Be sure to protect your hands when removing from the oven.
Cool for a few minutes. Serve warm.
Store leftovers in a tightly sealed container in the refrigerator for 2-3 days.
© Liesl K. Bohan  |  SavvyBaker.com