Although this isn't the best-looking bread we've made, it tastes great and is easier to make than you might think. The oats prevent a smooth, glamorous loaf, but their addition enhances the flavor and provides some well-touted nutritional benefits.
This is a hearty loaf, great for deli sandwiches and—at the risk of stating the obvious—outstanding in French toast recipes.
Set aside some extra time to make this. Your hands-on involvement is minimal, but the dough must be left alone for a few hours. For a more authentic, crusty French loaf, bake the bread directly on a pizza stone.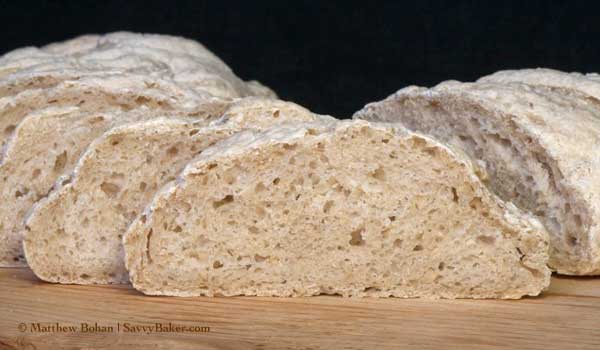 Oatmeal Sourdough French Bread
Adapted from Donna Rathmell German's The Bread Machine Cookbook III
1 cup starter
1 cup water
1 teaspoon salt
1 teaspoon sugar
1 cup oats
1 cup whole wheat flour
2 cups bread flour
2 teaspoons instant or rapid yeast
cornmeal for dusting
Add all ingredients except cornmeal to your bread machine in the manufacturer's recommended order, and run the dough cycle.
After the cycle has completed, allow dough to stand in the machine for 90 minutes.
Remove dough from machine and place on a Silpat mat or cornmeal-dusted surface, flattening into a large rectangle. (See photos below.)
Starting on one of the wide sides, roll the dough into a long tube and pinch the ends closed. (Yes, if you look closely, you can tell that we skip the pinching.)
Place in the center of a baking sheet that has been lightly coated with cooking spray and sprinkled with cornmeal.
Cover and allow to rise for 50-60 minutes. With 15 minutes to go, preheat the oven to 400° F.
After the final rise, slash the top of the dough horizontally several times with a sharp knife or razor blade.
Brush with cold water, dust with cornmeal and bake for 15 minutes.
After 15 minutes, lower the temperature to 350° F and bake 5-10 minutes longer, until bread sounds hollow when tapped.
Note: this bread doesn't really brown for us. If you're concerned about it's appearance and really want a golden loaf, apply an egg wash instead of water before baking.
Cool before slicing.
© Liesl K. Bohan  |  SavvyBaker.com