As pizza lovers with an aversion to garlic and onions, we have mastered several different recipes over the years. (Just try going into a restaurant and ordering a pizza that doesn't have either item in the sauce!)
When we first got married, our favorite crust utilized Jiffy mix, bacon pieces and dried tomatoes. We haven't given up our add-ins entirely, but now we prefer yeast-based recipes containing at least some whole wheat flour. The challenge is planning ahead. Even with the help of a bread machine, we don't always have dough ready in time for dinner.
We were lucky to find an "emergency" recipe in Donna Rathmell German's The Best Pizza Is Made at Home. It has enabled us get a pizza on the table within a half hour of deciding that's what's for dinner. This recipe is a doubled, whole-grain version of the original (plus sugar, for a Chicago-style touch).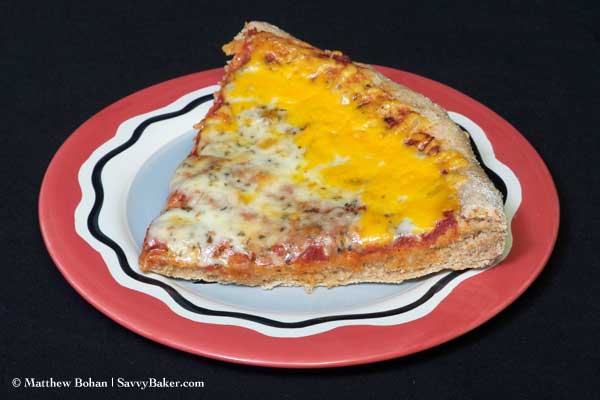 Last-Minute Deep-Dish Pizza Crust
Makes one 14-inch deep-dish crust
2 cups whole wheat flour
2 cups all-purpose flour
2 tablespoons baking powder
1 tablespoon sugar
1/2 teaspoon salt
2 tablespoons olive oil
1 1/4 cups lukewarm water
Preheat oven to 425° F. Mist pan with cooking spray and dust with cornmeal (optional).
Whisk flour(s), baking powder, sugar and salt together in a large mixing bowl.
Make a well in the center of the flour mixture. Add olive oil and water, combining with a fork. (If you have a mixer, use the dough hook for this step to speed things up.)
Add more water if needed, 1 tablespoon at a time, to incorporate all of the dry ingredients into the dough.
Knead briefly in bowl or on a lightly floured surface.
Roll out or press into pan.
For a pre-baked crust, prick the dough with a fork in several places and bake for 3-5 minutes before adding toppings. (The pictured, finished slice was not pre-baked.)
Cover with desired toppings and bake for 10-15 minutes, until crust is golden and cheese is melted or browned to your liking.
© Liesl K. Bohan  |  SavvyBaker.com