Matt's mother says they were served brown bread everywhere they went during their family vacation in Ireland ages ago. According to Wikipedia, Irish wheaten bread is a form of Irish soda bread made with whole wheat flour.
We recently tried an Irish brown bread recipe based upon one in Donna Rathmell German's The Bread Machine Cookbook III. We're hooked. It's hearty and slightly sweet, perfect warm and topped with just a little butter for breakfast or snack time.
I've included directions for oven baking. Although the bread machine version is really good and somewhat easier to make, I prefer the texture of the oven-baked loaf.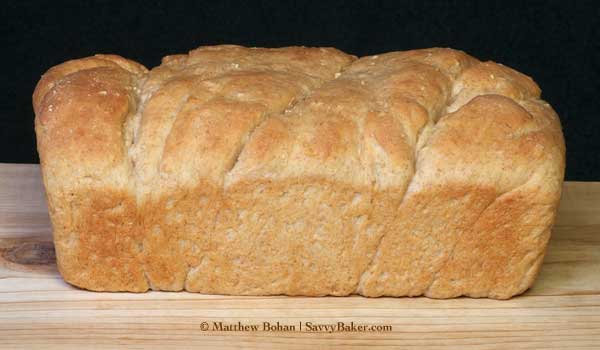 Irish Brown Bread
Makes one 2-pound loaf
1 1/2 cups lowfat buttermilk*
1/4 cup brown sugar
1 teaspoon salt
1 cup whole wheat flour
1 cup rolled oats, not instant
2 cups bread flour
2 1/2 teaspoons rapid or instant yeast
* Easy buttermilk substitute: put 1 1/2 tablespoons of white vinegar or lemon juice into a 2-cup measuring glass; add enough lowfat or nonfat milk to raise the total to 1 1/2 cups of liquid. Allow to stand for at least 5 minutes before using.
Put all ingredients into bread machine in the manufacturer's recommended order.
If baking in bread machine, use the 2-pound basic, white or wheat setting.
Otherwise, run the dough cycle and follow the instructions below.
Mist a 9 x 5-inch bread pan with cooking spray.
When the dough is ready, remove it from the bread machine using lightly oiled or floured hands.
Form dough into a cylinder and place in bread pan. (I twisted it a little for the loaf pictured above.)
Cover and allow to rise for 45-60 minutes.
Bake in a preheated oven at 350° F for 22-24 minutes, until golden brown.
Remove to wire rack to cool for at least 30 minutes before slicing.
Store in a tightly sealed container at room temperature for 2-3 days.
© Liesl K. Bohan  |  SavvyBaker.com