I'd like to take an occasional break from recipe sharing to highlight some of my favorite ingredients and their nutritional benefits. First up is walnuts, which are featured in several recipes on this site, including Cranberry Orange Walnut Bread, Banana Apple Walnut Bread, and Creamy Vanilla Steel-Cut Oats.
[Walnuts are] "the single easiest, most delicious and health-promoting snack food on the planet." – Steven G. Pratt, author of SuperFoods Rx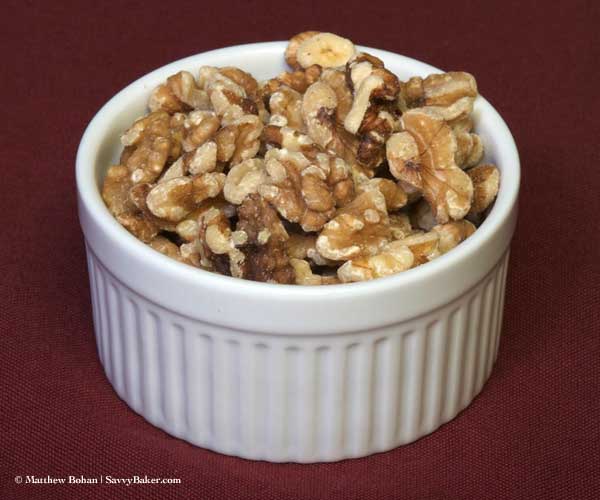 Walnuts: Did You Know?
Walnuts aren't low in fat, but their polyunsaturated fats can help lower levels of "bad" (LDL) cholesterol and raise levels of "good" (HDL) cholesterol.
Walnuts are one of the few plant foods that contain alpha-linolenic acid (ALA), an omega-3 fatty acid that protects against heart disease, inflammation and possibly even cancer.
For adults and children ages 4 and older, a one-ounce serving of common (English) walnuts is about 14 halves and contains 9% of the recommended Daily Value (DV) of protein.
Walnuts are a great source of the antioxidant manganese and a good source of copper, which helps with the absorption, storage and metabolism of iron.
According to MyPyramid.gov, one serving of walnuts equates to two "ounce equivalents" of meat and beans and 2 teaspoons of oil.
For those counting carbs, walnuts contain very few. One ounce contains 4 grams of carbohydrates and 2 grams of fiber, resulting in only 2 grams of net carbohydrates.
Walnuts are a nutritious but calorie-dense food, so those watching their weight should substitute walnuts for other foods so as not to increase overall calorie consumption.
New research funded by the American Institute for Cancer Research has found evidence that a daily dose of walnuts reduces the growth of breast cancer tumors in mice.
Shelled walnuts should be kept in a tightly sealed container and refrigerated for up to six months or frozen for up to one year. Shelled walnuts and walnut oil can go rancid in warm storage. (I buy them in bulk when the price is right, storing some in the refrigerator and the rest in the freezer.)
Sources and Additional Resources
The Essential Best Foods Cookbook
by Dana Jacobi
SuperFoods Rx: Fourteen Foods That Will Change Your Life
by Steven G. Pratt
© Liesl K. Bohan  |  SavvyBaker.com