I considered using "surprise" in the title to represent the broccoli hidden within these scones. I'm sorry to report, however, that the surprise was on me. My children won't eat them. (Argh!) They like ham; they like cheddar; they like scones; they even like broccoli, but they won't touch these. They won't explain why, so I don't know if it's an issue of taste or texture.
I'm sharing the recipe anyway because we, their parents, really like them, and I know there are other people out there looking for creative ways to serve more vegetables. If you try these, let me know what you and your loved ones think of them.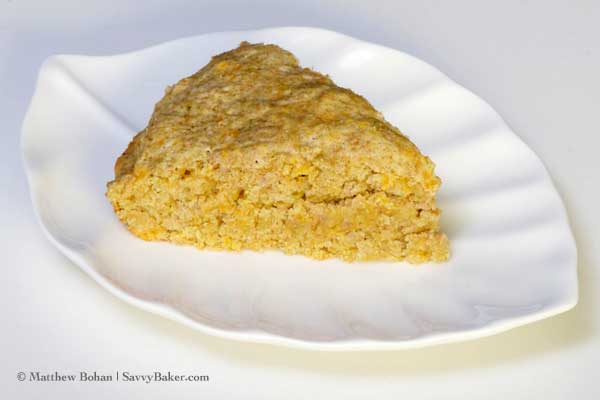 Ham, Cheese and Broccoli Scones
Adapted from Cooking Light
1 cup whole wheat flour
1 cup all-purpose flour
1 tablespoon baking powder
2 teaspoons sugar
1/4 teaspoon salt
Dash black pepper
3 tablespoons cold butter, cut into small pieces
3/4 cup (3 ounces) shredded cheddar cheese
3/4 cup finely chopped cooked ham (about 3 ounces)
1/2 cup nonfat milk
1 large egg
1/2 cup cooked broccoli (I use leftovers)
Preheat oven to 400° F and mist a pie plate with cooking spray.
Combine flour(s), baking powder, sugar, salt and pepper in a large bowl.
Cut butter into flour mixture using knives, fingers or a pastry blender until mixture resembles coarse meal.
Stir in cheese and ham.
Puree milk, egg and broccoli in a food processor. (Alternatively, finely chop the broccoli and whisk it into the milk and eggs in a small bowl.)
Add milk mixture to flour mixture, stirring just until everything is moistened.
Turn dough into pie plate and with moistened or lightly floured hands, press until level.
Cut dough into 8 wedges, pressing knife into but not completely through dough.
Bake for 20-22 minutes, until lightly browned.
Cool for 5-10 minutes. Slice or break at scores and serve warm.
These are best on the day they're made but can be stored in a tightly sealed container in the refrigerator for up to two days.
© Liesl K. Bohan  |  SavvyBaker.com