a.k.a. Winter Squash Soup, Take 3
I thought I was done sharing squash and pumpkin soup recipes, but I just created a new favorite this week. It's similar to my Pumpkin Peanut Butter Soup, but it has applesauce instead of sweet potatoes, making it even easier to whip together. It's thick, gorgeous, delicious and ready in just a few minutes. As if that weren't enough, it's also loaded with all sorts of good-for-you vitamins and minerals.
In case you're wondering about all of the squash recipes this month, they are the result of me finally roasting the last of the winter squash I harvested or bought in the fall. There's no need to grow and cook your own, however. You can use canned pumpkin—not pie filling—or frozen, cooked butternut squash (thawed) instead.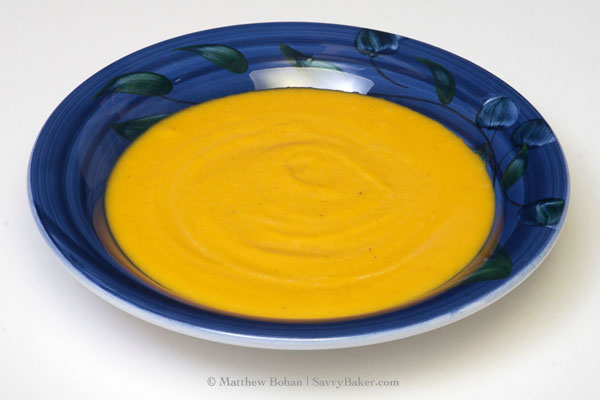 Fantastic Fall Harvest Soup
Makes 2-3 servings
1 can (14 oz.) low-sodium chicken or vegetable stock
3/4 cup unsweetened applesauce
1 3/4 cups or 1 can (15 oz.) cooked, pureed pumpkin or butternut squash
1/4 teaspoon salt
1/4 teaspoon ground pepper
Put all ingredients into a blender and puree.
Pour into microwaveable serving bowls and heat to desired temperature.
Refrigerate leftovers in a tightly sealed container for 2-3 days.
© Liesl K. Bohan  |  SavvyBaker.com